Growing seeds indoors can be super rewarding, especially when it's too cold to plant anything outside. Being able to grab some lettuce or herbs right from the kitchen is really convenient and a great way to eliminate any excuse for not eating healthier.
The Aerogarden Bounty and the Aerogarden Bounty Elite are two of the latest models in the line of hydroponic indoor gardening systems. They offer some upgrades to the less pricey Harvest models, but if you don't need those, you might be better off saving some money and going with the Harvest model. Let's take a look!
The Aerogarden Harvest vs Bounty Models
There are quite a few Aerogarden indoor garden models to choose from. The Harvest and Harvest Elite are cheaper but they don't include as many features.
The main reasons to choose a Bounty or Bounty gardens are:
You can grow more plants (9 pods instead of 6)
You can grow plants that need more space (24 inches tall vs 12 with the other models)
You can link your indoor garden to WiFi. This lets you connect to the Aerogarden mobile app and get notified when your garden needs water or nutrients. Pretty cool!
You can also grow larger plants, with the lights being able to be raised up to 24 inches. With larger plants, you might need a trellis system, and that's included as well.
The pump on the Bounty models is much more accessible and easier to clean than older models.
So what about the two Bounty models, what's so different between those two?
At the offset, these two look very similar, but there are quite a few differences.
What's the Difference Between the Bounty Basic & Bounty Elite?
Let's walk through some of the main similarities and differences between the Bounty and the Bounty Elite.
Note: there also used to be a Bounty Elite Artisan model, but Aerogarden has since discontinued that model.
Size & Dimensions
Both the Bounty and the Bounty Elite are the same dimensions. They both can hold 9 different plants at the same time as they each have 9 seed pod holes.
We earn a commission if you click this link and make a purchase at no additional cost to you.
We earn a commission if you click this link and make a purchase at no additional cost to you.
LED Grow Lights
Every Aerogarden has a light hood with LED lights to help your plants grow and mimic the natural sunlight they don't get indoors.
The lighting system on the Bounty and the Bounty Elite are similar, however there are some differences in terms of wattage.
Wattage
The Bounty Elite model comes with 50 watts of light, vs the 30 watts that come with the Bounty basic model.
While the 30 watts should be sufficient for most types of plants, if you're going to be growing a lot of peppers or other heat loving plants, you might want to opt for the 50 watt version.
Brightness
Both of these are extremely bright, so if you are planning on keeping this in a location where you sleep, you might want to check out some Aerogarden covers.
These both come with dimmable lights, so if the brightness is too much for certain plants, you can take advantage of this feature.
Light Height Adjustments
Both options come with up to 24 inch heightening capacity to allow taller plants to grow well. Less expensive Aerogardens are usually only able to handle plants growing up to 12 inches before they'd reach the light. This is quite an upgrade from the other models like the Harvest family of Aerogardens.
Seed Pods & Growing Capacity
With the extended height and extra seed pods, you're going to be able to grow more varieties of plants and herbs in your Aerogarden.
These come with either the Gourmet Herbs or Heirloom Salad Greens as your "starter kit".
WiFi & Mobile App
The Wifi capabilities on both the Elite and Bounty Basic are pretty cool! You can sign up for the Aerogarden app and get push notifications when water is running low, or your nutrients need to be filled up.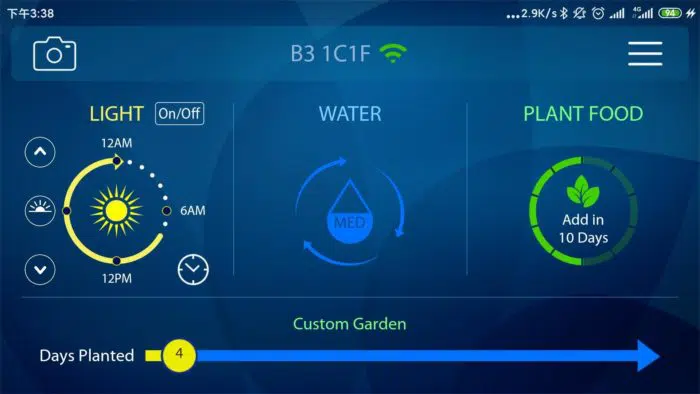 You can also just check in whenever and see how things are going. Great for if you're going on vacation, or you go on a work trip and need to…cough cough, check and make sure your spouse filled it up like you asked.
Control Panel & Digital Screens
The Bounty Elite model has a touchscreen to make it easier to navigate through the screens and stay on top of your garden.
The Bounty basic model has an LCD screen but offers much of the same capabilities (without the touch screen).
Vacation Mode
If you read any Aerogarden bounty review, you'll probably hear people rave about this feature because it's quite unique.
Vacation mode allows you to essentially tell the Aerogarden you wont be home for a certain period of time. This tells it to not keep the lights on as long as normal to avoid a complete dry out of your indoor plants.
Yes, this will slow the plant growth, but at least they won't die.
Both Aerogarden models in the bounty family come with Vacation mode.
Noise
The pump the Aerogarden uses to pump water around used to be much noisier, but these newer more "fancy" models have a quieter pump.
Water & Nutrient Reminders
One of the reasons an Aerogarden system is much simpler to use for those of us with "black thumbs" is the reminders to water and feed your plants. When growing plants indoors, these are kind of important to remember.
Without these reminders, some of us might forget here and there. And that's typically all it takes to start killing your plants.
Both models come with liquid nutrients and seed pod kits to get you started growing quickly.
Luckily, the Bounty models have push notifications so it's going to be a little harder to forget to water your plants.
Cost
The Bounty Elite is going to run you around $30 extra for the additional features. Let's recap the main differences of the Aerogarden Bounty models to help you decide.
Is the Aerogarden Bounty Elite Worth It?
There are quite a few differences between these two models.
With the Harvest Bounty Elite model, you'll get:
Stainless steel finish – the body of the bounty elite models gives you a stainless steel body vs the black body of the bounty basic
Grow Light Wattage – the Bounty Elite model offers 50 watts of power, vs the 30 watts you get with the Bounty basic model. If you're going to be planting more heat tolerant plants that need additional light, you'll want the 50 watt Bounty Elite model.
Touch screen – the Bounty Elite model has a full color touch screen that shows your garden's water level, days since planted, and plant types – and gives you reminders for when to add things like water and plant food. The Basic Bounty model has an LCD screen with similar information but not touch screen capabilities.
We earn a commission if you click this link and make a purchase at no additional cost to you.
We earn a commission if you click this link and make a purchase at no additional cost to you.
The Aerogarden Bounty family of gardens will help you grow fresh herbs, cherry tomatoes, and more right in your kitchen. With up to nine pods of space, you'll have multiple plants growing to add more fresh vegetables and herbs to your diet.
If you're looking to grow peppers and other plants needing additional heat and sunlight, opt for the Bounty Elite model. If you just want the ability to grow 9 plants at once, and will be growing things like tomatoes and basil, then the Basic Bounty should be more than enough for you.
Aerogarden Bounty models aren't the only options. Check out this post about all of the best aerogarden models on the market today.