If you're like me, I've been seriously neglecting my compost pile lately. I just keep adding to it, and sometimes I turn it. But most of the time I forget to even turn my compost pile.
Add that to it being so cold this winter that the pile froze, and you can tell that it needs some serious love and attention. It's pretty much impossible to turn with just a pitchfork these days.
So I went on a search for a tool I can use to break it up even more, and that's when I came across the glorious compost aerator. And I found a new garden tool to add to my favorites list!
The Best Compost Aerators
The standard sizes seem to be around 30-36 inches long, but my favorite comes in at 45 inches, making it much easier to manage when you have deeper compost bins.
1. The Lotech Crank Compost Aerator
In my opinion, this is the gold standard of compost aerators at the moment. It's longer than most other aerators (which are generally around 36 inches long), meaning you don't have to bend over as much either while turning your compost heap.
This thing tears through compost piles like it's nothing. The crank handle helps make quick work of even my 12 foot long compost pile without breaking your back.
We earn a commission if you click this link and make a purchase at no additional cost to you.
This functions similar to a giant corkscrew that tears through compost materials. The 45 inch length comes with an effective depth of 29 inches, which is perfect for a 3 or so foot deep pile.
You simply twist the crank clockwise into the pile, and once you reach the bottom you pull the tool towards you. When you pull up the corkscrew pulls compost upward, creating more air pockets and helps the decomposition process.
The Lotech aerator comes with a limited lifetime warranty which helps put your mind at ease as well.
And this compost turner is absolutely something an older woman can use, check out this review:

The double grip handles make this thing so easy to work through even tough compost piles. Lotech also sells a compost aerator with an umbrella handle – seriously, it looks like an old-school umbrella. But I found that for a few extra dollars, the crank handle makes this the best compost aerator.
2. Bosmere Compost Aerator
The Bosmere compost aerator is another popular option when it comes to quality compost aerators, and it works a little different than the corkscrew option above.
It's considered a plunger aerator because it has two folding tines that stay close to the base when it's pushed into the pile, but retract and open up when the tool is pulled upward.
This tool has multiple angled blades to help aerate compost in multiple directions. The adjustable handle is made for both left and right-handed folks to use.
We earn a commission if you click this link and make a purchase at no additional cost to you.
It has multiple angled retractable blades for mixing up lots of organic materials at once.
3. The Yard Butler Auger
This one is quite different than the aerators above, but it works great and has multiple purposes
The Yard Butler attaches to your drill like a drill bit and can dig holes for planting potatoes, tomatoes, and other vegetables. But it also doubles as an aerator for your compost pile.
This one does require a little more bending over, but it can also dig holes for you to plant crops in your garden, so that's a plus!
The auger is also much cheaper, coming in at around a third of the price of the crank handle one from Lotech. But again, if bending over doesn't feel great for you, then I'd spend the extra money and get the crank handle.
What is a Compost Aerator?
A compost aerator is a gardening tool that you can use to help add more air and space into your compost heap. They help to mix the pile and provide oxygen to the microbes that break down the organic matter. While it might sound easy to turn compost pile, it's not.
With a compost aerator tool, it's much easier and just requires a few steps:
Place the aerator in your compost bin
Crank the aerator in one direction until you reach the bottom of the compost pile
Pull upwards
Repeat until your entire compost pile has been turned
What used to take me 30 minutes, now takes me just 5 minutes. I have a compost pile that is 12 feet long by 4 feet wide (we compost a LOT of leaves during the fall).
This compost aeration tool makes the act of composting SO much easier, especially on your back because you're not trying to turn the heavy compost material over and over.
Types of Compost Aerators
There are a few different types of compost aerators on the market. The most common type is the crank-type aerator.
Crank Aerators
A crank aerator, or corkscrew aerator, are great for a large compost pile or small one as well. This aerator has a crank that you turn to rotate the aerator blades, which look like a corkscrew.
I have a 12 foot long compost pile, and the corkscrew type aerator works great at getting to the bottom of the pile.
Plunger Aerators
This aerator has metal tines that you push into the compost pile. It is a good choice for large piles or piles that are frozen solid, like mine was. Whoops.
Plunger aerators, or tine aerators, have multiple tines at the end of the tool that fan out when the aerator is pulled upward. This helps create air pockets in the compost heap that help with the process of decomposition.
While great in theory, these don't seem to be as durable as a crank aerator, or maybe I just haven't tried enough of them. Any garden tool with moving pieces seem to last fewer years than those that don't move.
Other Tools for Aeration
As I mentioned above, an auger can be a good option for smaller compost piles as they come in a bit shorter and can't reach as deep as a typical aerator.
They also help with other garden tasks like digging holes for plants and seeds to go in. Or if you're putting up fences posts and need a good head start on the holes.
A pitchfork can help as well if your pile is not compacted down or very heavy.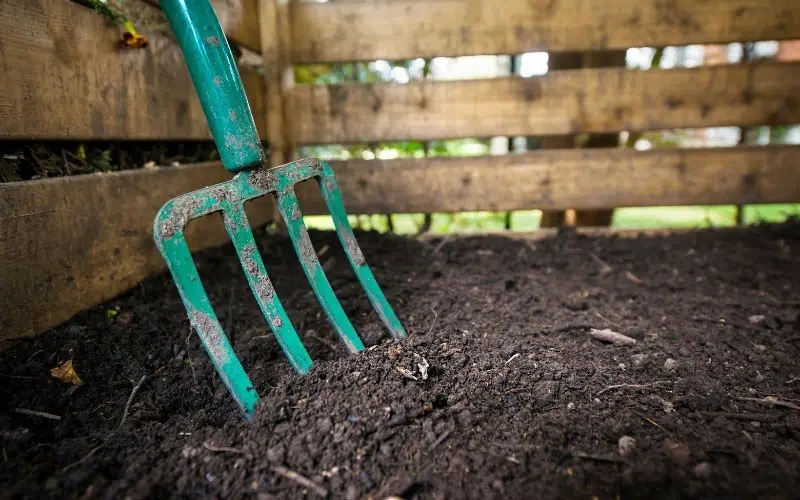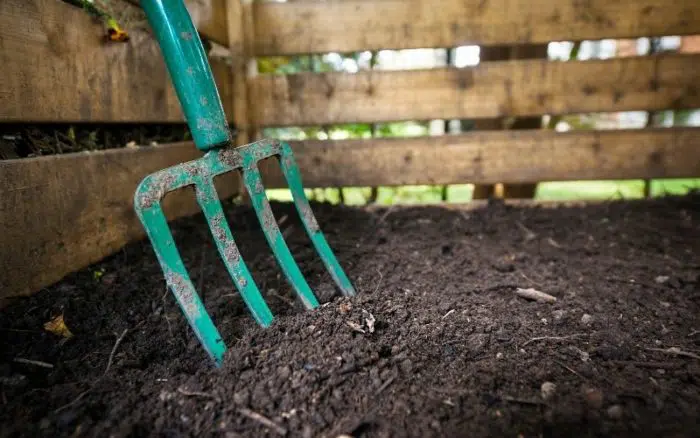 What to Look For in a Compost Aerator
You just need something that turns compost reliably, right?
Well, yes and no.
1. Durability
You're going to want something that lasts for a good while so you don't have to buy another tool. But you also want something that is simple to use and makes your life easier. Checking compost aerator reviews can help you see if other people found it useful, or if they came back and said "it broke after 2 uses" – then you know to stear clear of that tool.
Seeing a company offer a warranty is another great tell tale sign of a quality product. The Lotech crank aerator is highly durable and comes with a limited lifetime warranty.
2. Ergonomics/Comfortable to Use
Since you're going to be spinning the tool and pulling upwards on it, you want to make sure it has a comfortable grip and padded handles. It's also wise to use gloves to discourage getting blisters on your hands, especially for the first few times you use the tool.
3. Materials/Weight
The Lotech and Bosmere compost aerators are light weight both weigh around 2 pounds, and are made of stainless steel and non-rust steel. I'd look for either aluminum or stainless steel to reduce the weight of the tool.
Some of the other aerators I've seen can weigh up to 5 or more pounds, which can come into play if you have arthritis or back pain.
Do You Need a Compost Aerator?
While compost aerator tools aren't necessary, you need some kind of tool to help you aerate compost. This can be a pitchfork, a shovel, or a heavy duty rake can work in some instances. Unless you have a compost tumbler or very small pile, then you're going to need some kind of tool to assist you.
But yes, you do need something to aerate the pile and assist the decomposition process. Otherwise, you just have a big pile of scraps that will take forever to break down. And I've found that when I neglect my compost pile and am not consistently aerating compost, the bottom gets a little moldy and has white gunk all over. I'm sure that's not great for the composting process.
How Often Should You Turn Compost?
Turning compost is a necessary part of a successful compost pile. But how often do you really need to turn it and tend to your compost?
You want to turn your compost pile every few days for the first few weeks after starting the pile. After that, you can probably turn it once a week.
You can turn the pile less frequently, but it will likely take longer for your compost to break down and decompose back into usable material. Adding fresh air into the pile with the right tool can drastically reduce the time it takes to turn your pile of scraps into usable compost.
And don't forget to add water to your compost regularly! That is one of the essential elements of a great compost pile. You need the moisture levels to be up or else your pile isn't going to decompose and you'll be left with food scraps. While rain is often a great help, you'll likely need to supplement and water your pile every few days.
Aeration is Key
Composting helps turn yard waste back into nutrient rich soil to use for gardening, instead of just putting everything in a paper bag and having your trash company take it away.
While it's a simple process, it's not always easy, especially if you have a large compost bin. That's why I like to find tools like this compost aerator that help make my life just a little bit easier and save my back for more years of gardening.