So you're ready to start growing your own vegetables from seeds? It's freaking cool, right?
And you get a head start on the growing season!
But getting yourself all prepared for growing seeds can be an interesting process. If you're like me and want to do it right the first time, you're going to need a few things.
Starting seeds requires things like seedling heat mats, grow lights, humidity domes, seed trays, seed starting mix, and seeds (naturally).
Of course, you can start without all those extras, but where's the fun in that? 🙂
What Are Seed Starting Kits?
If you're just starting out in gardening or if this is going to be your first time growing plants from seeds, it can be helpful to get a seed starter kit that has all the essentials.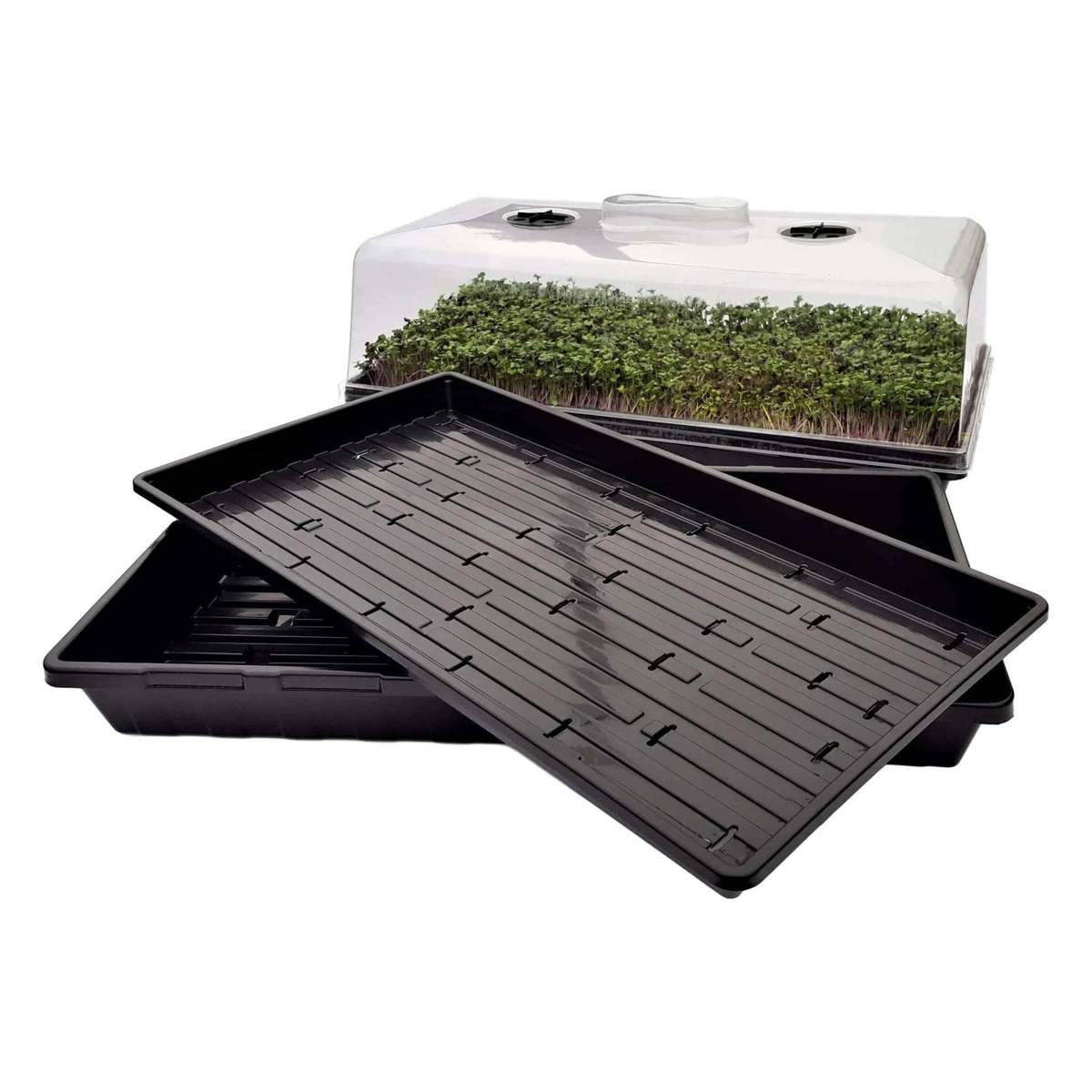 This will give you an opportunity to get a feel for each component and see how they work together as part of the overall process of growing plants from seeds. These are also great for kids who are just getting started and want to grow plants like tomatoes, heirloom vegetables, and other delicious vegetables in the garden.
What is in a Seed Starting Kit?
Generally a seed starter kit comes with a combination of these:
Seed starter trays (often called microgreen trays)
Humidity dome – this acts as a mini greenhouse. It's essentially a lid that helps keep the environment in the tray moist and warm
Growing medium – this could be peat pots, coco coir, or another option
Heat mat – when you're starting seeds you need to keep the temperature consistent and around 75 degrees, which is generally higher than what the temp in your home is.
Grow Light – sometimes seed starting kits come with grow lights to help you keep your plant starts thriving before you can transplant them outside.
One of the benefits of buying the trays and humidity dome from the same place is that you know the humidity dome is going to fit on top of your seed starter trays.
Often times people buy a seed tray from one place and then the dome from another, and they just don't quite match up – which kind of defeats the purpose of having a humidity dome.
The 5 Best Seed Starter Kits for 2022
Bootstrap Farmer Seed Starter Kit
Confession: I love this company.
Their products are of the highest quality, which is great if you're going to be growing plants and gardening for a long time. But as you might expect, a higher quality kit does come with a price tag, so keep that in mind if you're not sure if this is the right hobby for you.
But if you know you're going to be at this for years to come, then I would just stop here and grab your seed starter kit from Bootstrap Farmer.
Top Pick
Bootstrap Farmer Seed Starting Kit
Bootstrap Farmer is a brand that has high quality products for home gardeners and growers. This kit includes:
2 Extra Strength Microgreen Trays With Holes
2 Extra Strength Microgreen Trays No Holes
2 Humidity Domes Extra Strength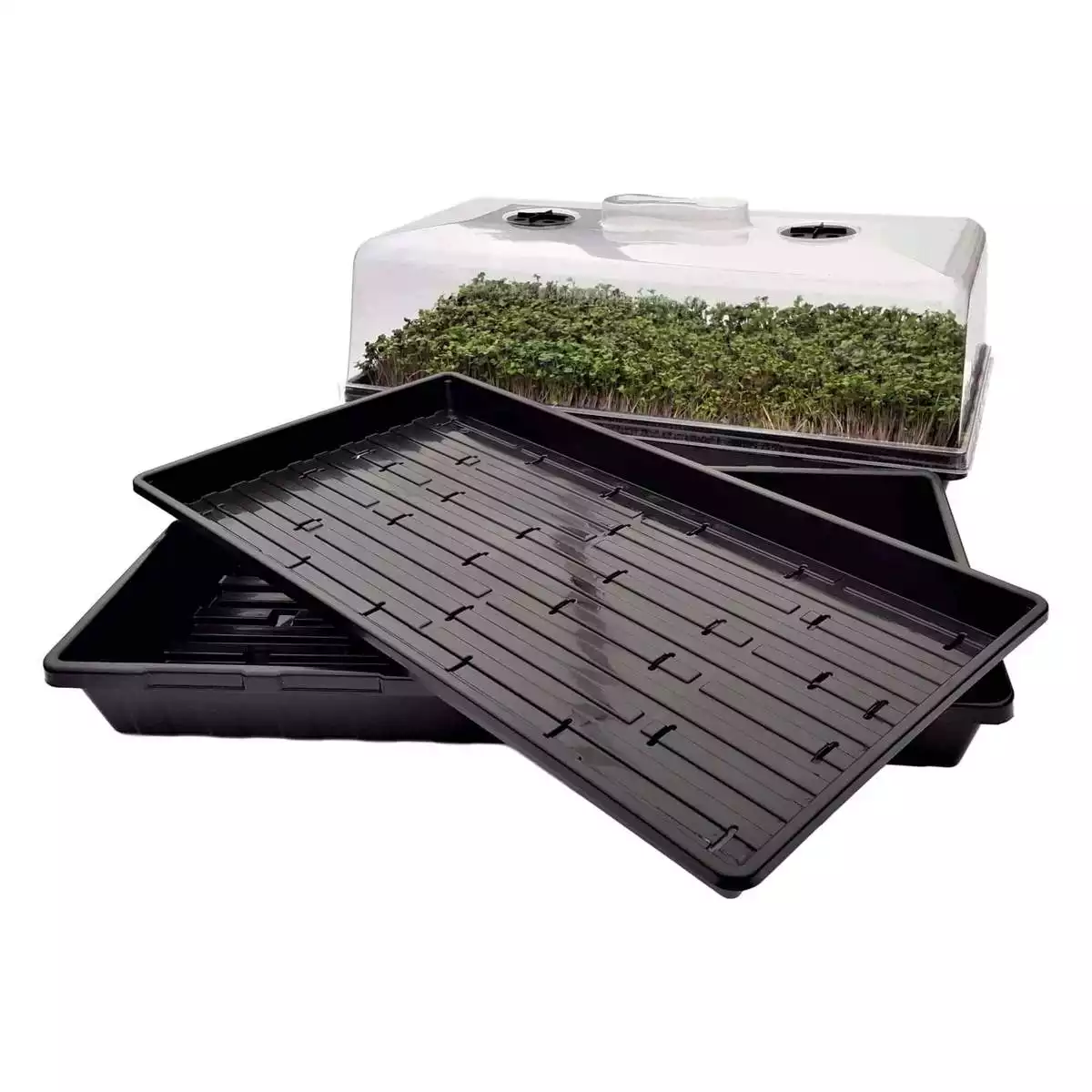 We earn a commission if you click this link and make a purchase at no additional cost to you.
This kit comes with some of the most durable trays you can find anywhere, and a humidity dome with humidity vents that isn't just a cheap piece of plastic. It's a super durable plastic that will last you multiple seasons.
Their trays are made from food-safe, polypropylene heat-resistant plastic. Which in layman's terms means, they won't get too hot, warp, crack, or leach harmful chemicals into your plants.
Vivosun Seed Starter Kit
We earn a commission if you click this link and make a purchase at no additional cost to you.
This is another great company for seed starting products, and the kit comes with everything you need.
Vivosun heat mats are my current go-to for starting seeds indoors. They just work. Plus, this kit comes with a thermostat so you can make sure the heat mat is keeping the temperature at a good level.
So the fact that you get a heating pad, thermostat, cell tray, tray with no holes for bottom watering, AND a humidity dome is pretty good deal.
TrueLeaf Market Seed Starting Kit
Talk about a cost-effective kit! This kit comes with cell trays, a drip tray, a humidity dome, seed labels sticks, 12 compressed soil pucks, and a bunch of salad garden seeds from Mountain Valley Seed Co.
TrueLeaf Market Seed Starter Kit
The Salad Starter Kit includes:
Beautiful Gift Box
Trays
Humidity dome
Seed label sticks
Compressed soil pucks (just add water)
Salad garden seeds (enough for multiple plantings)
We earn a commission if you click this link and make a purchase at no additional cost to you.
I like that it comes with soil seed starters because choosing the right medium to grow in can be a challenge for beginner gardeners. This is taking the guess work out of that so you can focus on growing healthy plants.
While you'll likely still want a heat mat and grow light if you're starting seeds in the winter, this is a great option – and the whole kit is less than $20!
Jump Start Seed Germination Kit
This kit is a good option for those on a budget. It comes with a heat mat, 72-cell tray, and a 2-inch humidity dome.
We earn a commission if you click this link and make a purchase at no additional cost to you.
You might want to get bottom trays so watering your plants from the bottom is easier and so the excess doesn't get all over your table. This also helps stronger root development and keeps the fungus gnats at bay!
These cheaper trays can be a little flimsy, so if you have the extra budget, I'd go with something you can use for multiple growing seasons.
Super Sprouter Propagation Kit
The seed starting kit from Super Sprouter comes with a grow light!
Normally I'm a little cautious when one of the more expensive items a gardener needs is included like this, but this actually seems to do quite well.
This kit comes with a T5 fluorescent grow light, so while it's not an LED and will put off some heat, those lights are quite effective in terms of their output. And it gets great reviews which is a good sign.
Aside from the grow light, this kit comes with a bottom tray and humidity dome. You're still going to need some cell trays or nursery pots for your plants to grow in, but you can cross the grow light off your list.
We earn a commission if you click this link and make a purchase at no additional cost to you.
Make Your Own DIY Seed Starter Kits
Making your own kit for starting seeds is my favorite option. I know some of these are marked up simply because they include the word "kit", plus you don't get everything you need.
Here's are some options I'd go with, and keep in mind I like to keep the quality up so I can reuse these things:
Total Kit Price: $128.80 (at the time of this writing)
Now that seems wildly expensive when you see the prices above for the seedling starter kits, but other kits don't always come with everything you need, and most didn't include soil so that's a difference as well.
I like the build your own kit option because you get to make it your own. For example, I like growing in a larger pot because the 72 or 128 cell trays don't leave much room for growth. And if you have to transplant your seeds too often they could experience transplant shock.
While it's not the simplest method and does require more time to build, it forces you to learn about starting seeds and what your garden needs. This DIY kit includes everything you need to get started.
Also, if you're just planting a small herb garden on your sunny window sill during the summer, you might not need a grow light or heat mat. So, these recommendations are going to vary depending on what you actually need.
Buyer's Guide: What to Look For in a Seed Starter Kit
The Size of Cells and Number of Cells
Depending on how many seeds and how long your seedlings are going to stay in the trays, you're going to want to consider the size of the cells in your tray.
Trays with 128 cells are generally used for quick transplant, and won't be sufficient for seeds that you start 6-8 weeks before moving them outside. I like to use 2 or 3.5 inch cells because they give you more leeway if your frost date comes and goes without any sign of spring.
So you'll want to make sure this will accommodate the seedlings and plants you're going to be growing in your garden. Make sure they aren't going to outgrow the trays before you're ready to transplant them outside.
Durability
As I've mentioned throughout this guide, quality is important if you're going to start seeds indoors well into the future. Not just for your wallet, but for the environment.
While the flimsier trays might be 1/4 of the price of a higher quality one, they might only last you one growing season.
Growing Medium
Most of the seed starting kits above don't come with a growing medium, and that's probably because there are so many options. Plus, soil can go bad so it's not as shelf stable as a plastic tray is.
For growing medium, you can use things like coconut coir, peat pots, seed starting mix, potting mix and a bunch of combinations of those.
When you're looking for the best seed starting kit, you might quickly realize that just creating your own is the best option.
See you in the garden! 🙂