Keeping up with weeds SUCKS. Especially when they start taking over your beautiful lawn or garden beds that you worked so hard on.
In 2020, I moved from the city to 1.5 acres of land and I'm learning that if you don't keep up with your weeds and tall grass, they seem to grow FEET overnight. Yes, Feet – especially when it rains. It can get out of control fast.
But I recently discovered a tool called a grass whip, and it's a gamechanger.
Yes, I have a ride on mower, a push mower, and weed whacker. But this is excellent for those areas of the yard that are uneven, around trees, or just in a spot that those other garden tools can't reach.
Plus, I don't have to worry about adding gas, changing the oil, or any of the typical issues that come with machinery.
What is a Grass Whip?
A grass whip is a weed or grass cutter that looks like a golf club with a long blade on the end.
It looks like this: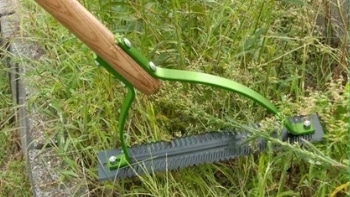 You may have heard about grass whips under these common names:
Manual weed whacker
Serrated grass whip
Swing blade grass cutter
Weed sling blade
The tool that improves your golf swing while you maintain your lawn
The Most Efficient Grass Removal Tool
You can use a grass whip for clearing tall grass, getting rid of ivy patches, and even clear poison ivy without touching it. It's used great for removing weeds or grass from the lawn, garden beds and anywhere else you need to get rid of pesky ivy vines or weeds.
Grass whips cut with a sharp blade in both the forward and backward motion, which can cut your weeding time in half compared to a scythe or other grass-cutting tool. The serrated steel blade edges on the whip tool help you cut more than just grass, and work well on pesky weeds and thicker brush.
Why Not Just Use a Weedwhacker or String Trimmer?
There are a lot of good reasons to use grass whips instead of string trimmers:
You have to refill your string constantly
You're at the mercy of your battery or gas tank
Weed whackers can harm tree trunks
It's not as heavy
You get some exercise in
You don't need as much space for easy storage
You can improve your golf swing while you get rid of weeds
The best grass whips are still cheaper than a basic string trimmer
You can do it silently before 9am on a Saturday and not annoy your neighbors
The Best Grass Whips
The True Temper grass whip has a hardwood handle and double-edged serrated steel blades.
This tool is great for cutting tall grass and overgrown weeds or vegetation. The hardwood handle grass whip looks like an oddly shaped hockey stick, but is great for cutting tall growth.
True Temper is a quality brand that has been around since the 1800s and have a great reputation.
Weighing in at under a pound, you can use this thing for hours and not get super tired (unless you're out of shape like myself).
The Ames grass whip is 30 inches long and is a BEAST. The build quality is top-notch and does great on weeds over a foot tall.
It also comes with an eye hole on the handle so you can easily hang it up and store it out of the way in your garage or woodshed.
The Truper grass whip is another great option when it comes to grass whips.
Latest Posts