Growing in a greenhouse can extend your growing season by a lot, but there are quite a few moving pieces to keep track of. In terms of protecting your plants from pests, and too much sunlight, greenhouse plastic is super important to get right when setting up a hoop house, greenhouse, high tunnel, or another indoor growing area.
3 Best Greenhouse Plastics
There are a few good options on the market as far as greenhouse plastic sheeting goes.
1. Bootstrap Farmer Greenhouse Plastic
If you've been around this site for a while, you'll know I'm a big fan of Bootstrap Farmer's products. The company is a quality business, the customer service is second to none, and they offer warranty's on most of their products.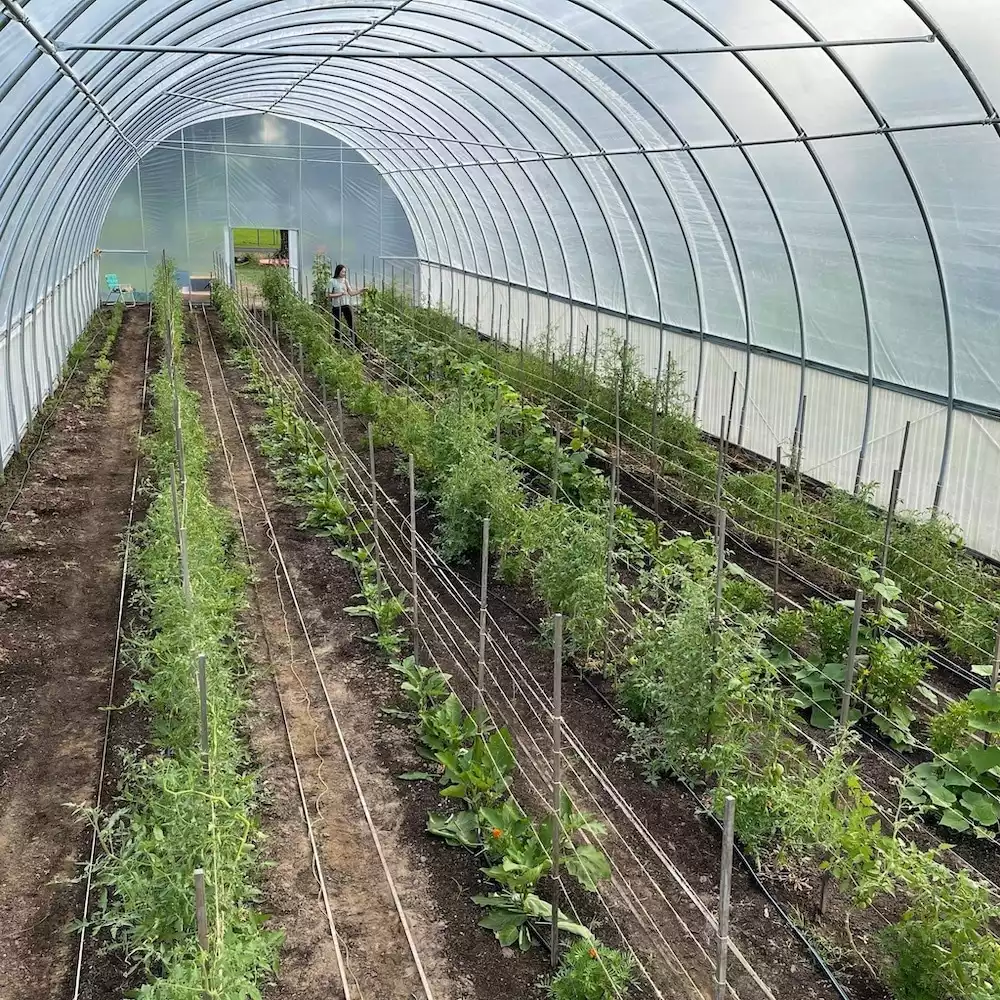 We earn a commission if you click this link and make a purchase at no additional cost to you.
Bootstrap Farmer has a 6 mil polyethylene film with over 90% light transmittance and light diffusion of 20%.
If you're looking to set up a brand new hoop house, this plastic comes with their hoop house kits, so check those out and you might save yourself a little money instead of buying everything separately.
Everything I have ever ordered from Bootstrap Farmer comes in 2-3 days, so the shipping is really quick which is great if you need plastic pretty fast because a freeze or a storm is moving in.
If you need channel locks, wiggle wire, or a ventilation crank, they can offer that as well.
If you're looking for a thicker plastic, you can also get their 11 mil Solarig woven plastic which is much thicker and a more premium option. This option comes with a longer 6-year warranty and has a more enhanced light diffusion.
2. Farm Plastic Supply
The only other option I'd recommend going with if you're looking for a cheaper alternative is from Farm Plastic Supply.
We earn a commission if you click this link and make a purchase at no additional cost to you.
It gets pretty good reviews and comes in a wide variety of sizes, from 10 feet wide and 40 feet long, all the way up to 54 wide and 90 feet long.
It is rated for 4 years of UV protection but does not come with a warranty as you get with Bootstrap Farmer.
Types of Greenhouse Plastic
There are a variety of types of plastic you can use to cover your greenhouse frame, but the two most popular ones are polyethylene film, and polycarbonate or acrylic sheeting.
Plastic Polyethylene Film
This is going to be the typical clear plastic film you generally see as a greenhouse cover. Plastic polyethylene is the most affordable option for greenhouse plastic by far – coming in around 10-20% cheaper than the other plastic options below.
So many commercial and home growers use this for their greenhouses – it's even used in mini greenhouses because it's such a flexible material. The biggest downfall is its lifecycle, as it isn't as durable as other options.
However, many people will use double-layers of this and put an air blower in between the two layers. This makes it act like a big blanket and drastically increases the insulation value of the plastic.
Pros
Cons
Low R-Value which means it doesn't insulate well
Doesn't last long
If you're going to go with Polyethylene sheeting, there are a few different thicknesses available. Most greenhouse plastic products these days are going to be polyethylene film for 2 reasons:
It lasts a decent amount of time
It's the most cost-effective option
Polycarbonate Panels & Acrylic Sheets
These are usually considered the more "budget option" for a greenhouse covering. They aren't exactly transparent, but they are translucent and let light through.
They are quite strong and do have a decent amount of durability.
These come in single sheets, double-wall or multi-wall. You can get more layers of thickness and improve the insulation and heat-trapping ability, but each layer usually decreases the amount of light that can penetrate by about 10%.
They also get more expensive as you add more air chambers to the thickness. Double-walled is the most popular option for polycarbonate for a 4 season greenhouse.
For something that's already not super transparent, this is something to keep in mind.
You can also get corrugated polycarbonate panels, but these usually don't last quite as long as double or triple-layer panels.
Greenhouse Film Colors
Greenhouse film can also come in a variety of colors.
Clear
White or Reflective
Black
Green
While clear is going to be the most popular choice to let in enough sunlight, these other options can work out great depending on where you live and what you're going to be growing.
Light Transmission & Transparency
When deciding what type of plastic to use for your greenhouse film, you want to consider how much light is going to be able to penetrate the material.
With a typical polyethylene film, you're going to get around 85% of the light penetrating through. When you go with a double or triple layer of polycarbonate, that might drop to around 80%.
Thickness & Layers
Depending on where you live, and how cold or hot the climate may be, you're going to want a different type of thickness for your plastic.
3 mil – overwintering film
4 mil
6 mil
8 mil
10 mil
11 mil
Your Weather Conditions
One of the big reasons to use certain plastics is to reduce daytime heat gain. If you're growing plants in the western states, or during the height of summer (and who isn't!?), you're going to want a good quality plastic that can act as a shade cloth when needed. Greenhouse films are great for this.
These plastics let in UV light, but also reduce the heat that comes through with it.
Can you use 10 mil plastic for a greenhouse?
Yes, you can use thicker plastic sheeting, and often times its a great idea! While it can come with a more opaque look because of the thickness, it can add quite a bit of insulation to your greenhouse.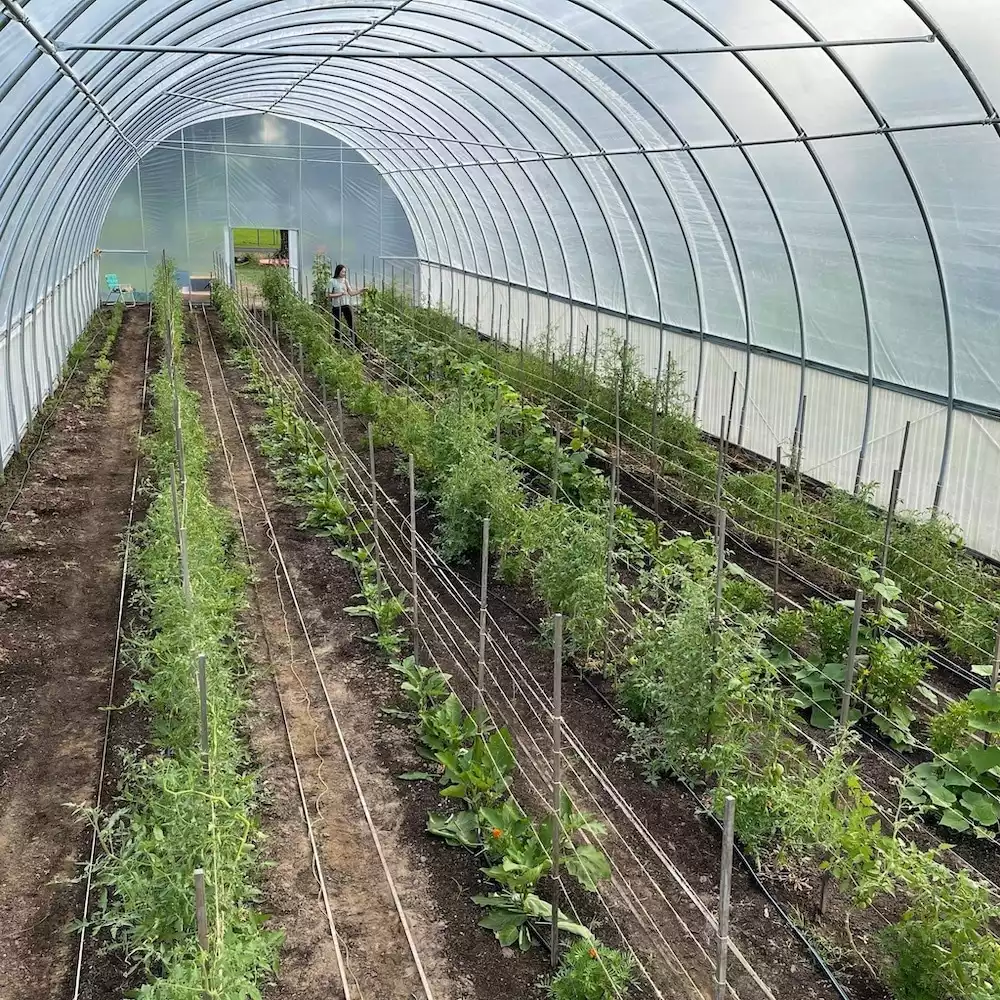 We earn a commission if you click this link and make a purchase at no additional cost to you.