Container gardening is such a good way to maximize extra space and/or grow plants in places you might not otherwise be able to.
But pots and planters come in all shapes, materials, and sizes, so it can be tricky to choose the right one for each situation. I wanted to find out what would work best for my side patio since it gets quite a bit of sun and can be great for herbs.
I did some research and put together a list of different kinds of materials you might encounter and the pros and cons of each in hopes this helps you too.
The Best Planter Materials
Not all planter materials are created equal. Some are very porous and can dry out more quickly. In addition, some materials are susceptible to warping and cracking, making them difficult to use for long-term plantings.
With so many factors to consider, it can be hard to know which material is right for your needs. Here is a breakdown of some of the most popular planter materials, along with their pros and cons.
Plastic Planters (Double-Walled)
Plastic containers are some of the more common varieties you'll see around for a few reasons: they are lightweight, and they are usually cheap. But they come with some disadvantages as well.
When considering a plastic container, you want to look for double-walled plastic. This means there is an air pocket between the two walls of plastic, which can help regulate the temperature and protect your plants.
Pros
Moisture Retention: Plastic pots are great at holding moisture as the plastic barrier doesn't let water leak out.
Lightweight: Plastic is super lightweight, making these containers much easier to move around than other materials.
Lots of Variety: Because it is a synthetic material and can be produced so cheaply, there are a ton of shapes, sizes, patterns, and colors you can find. And it's a material that can be easily painted as well if you want to change the look of them.
Durable: Plastic planters can last a long time depending on the quality you buy. Dollar store containers might not last a year, but more heavy-duty plastic can.
Cons
Doesn't insulate against extreme temperatures – if you leave some pots outside all year long, these aren't a great option
Not breathable
They are so lightweight, then you may need to add weight so the wind doesn't blow over your plants.
Clay & Terra Cotta Planters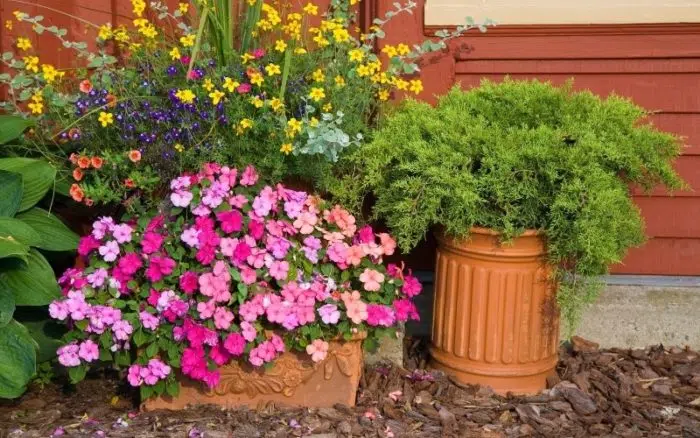 Terracotta pots are relatively inexpensive and easy to find, plus they have a classic look. But ceramic planters require regular watering since they are so porous and can crack or break if not handled properly.
If you're using glazed ceramic pots, they will drain better but not breathe as well for your plants. You will find lots of these at your local garden center.
Pros:
Porous and breathable: The porosity of clay or terracotta pots allows the plant roots to get more oxygen and breathe well. Although, this also dries out the pots more quickly.
Heavy: Ceramic and clay are heavy materials, which is great for protecting plants from getting knocked over by the wind or critters.
Great Insulation: Terracotta planters offer a good amount of insulation against extreme cold or hot temperatures. This makes them a great option for being left outside all year long.
Cons:
Dry Out Faster: While their breathability is a positive thing, it's also a negative as these pots will absorb more water and dry out more quickly. You'll need to stay on top of your watering schedule when growing in clay plant pots.
Heavy: Another pro that is also a con, a heavy pot is very hard to move around. Once you've chosen a spot for it, it's going to live there for a while unless you have some strong people to help or a good quality hand truck.
Wooden Planters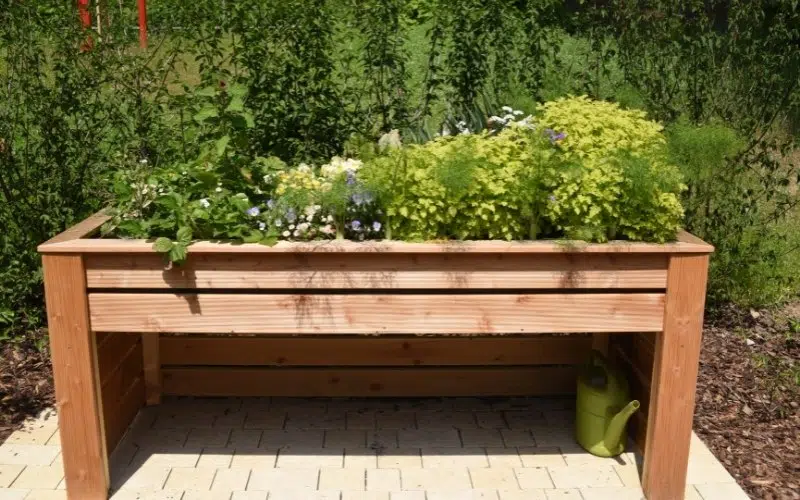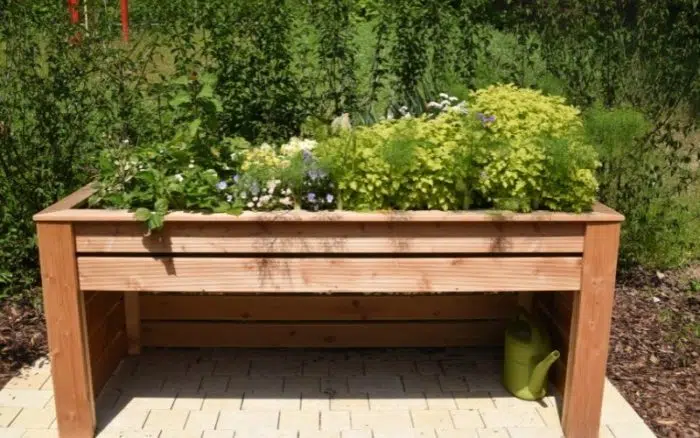 Some of the more common plant containers are made out of wood. Wooden planters are also fairly inexpensive, but they may require periodic sealing to prevent rot.
Wood is also a popular choice for raised beds because of its versatility and natural looks.
Pros:
Blend in Well: Wooden planters blend in nicely with your plants and the environment since wood is a natural material
Long-Lasting: If you're using pressure-treated wood, it can last a long time. A wooden planter will take a long time to break down, which means you don't need to replace them as often.
Good Insulators: Wood planters can do a good job of insulating plant roots against extreme heat and cold temperatures. I've had some plants overwinter in my wooden window boxes, which is always a nice surprise come the following spring.
Cons:
Might Need a Plastic Liner: If you're using treated wood for growing edibles, it might be wise to add a plastic liner to prevent the chemicals or pressure-treating materials to leach into the food.
Heavy: Some varieties of wood containers can be very heavy, making it hard to move them around once they are full of soil. While not as heavy as concrete or clay pots, they definitely pack more weight than a plastic container.
Fiberglass Containers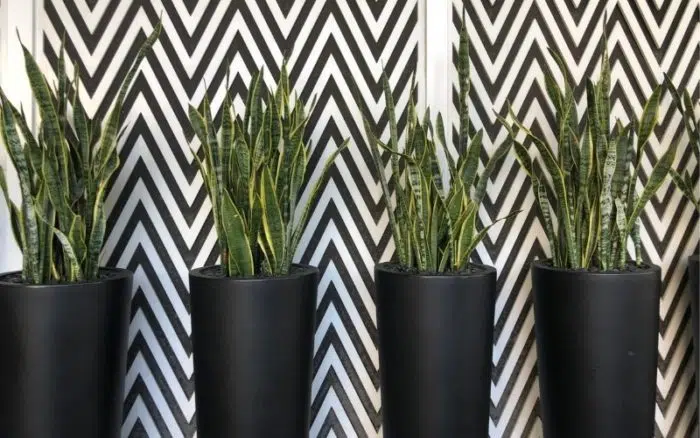 A fiberglass planter has a lot of the advantages of plastic, but without breaking down as quickly in the elements and having as big an environmental impact. However, it does come with a price tag.
Pros:
Lightweight and easy to move around
Strong, durable containers that last a long time
The material can be molded and finished to look like a natural material
Insulates well against the cold and the heat
Cons:
Metal Planters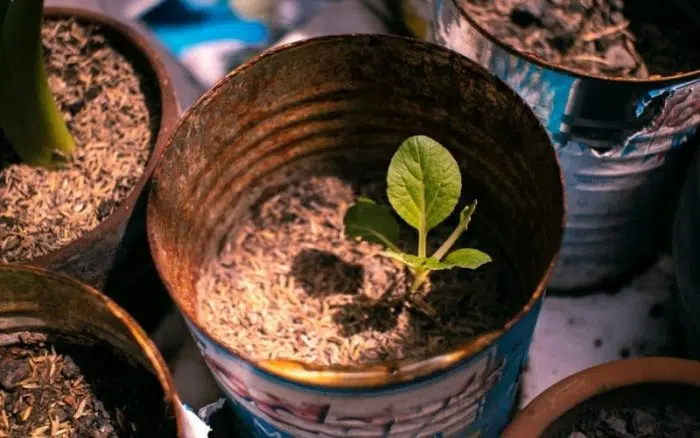 Metal containers can be a good option for plants because they add a lot of character to a garden. However, there are quite a few disadvantages you'll need to keep in mind when deciding whether or not to use a metal planter.
Pros:
Can be lightweight
Holds moisture well
Cons:
If using cast iron or heavier metals, they might be extremely heavy
Does not breathe
Gets very hot if sitting in the sun for long periods of time – even my window boxes with metal rods can burn plant leaves.
Does not insulate in the cold temperatures
Can rust over time
Concrete Planters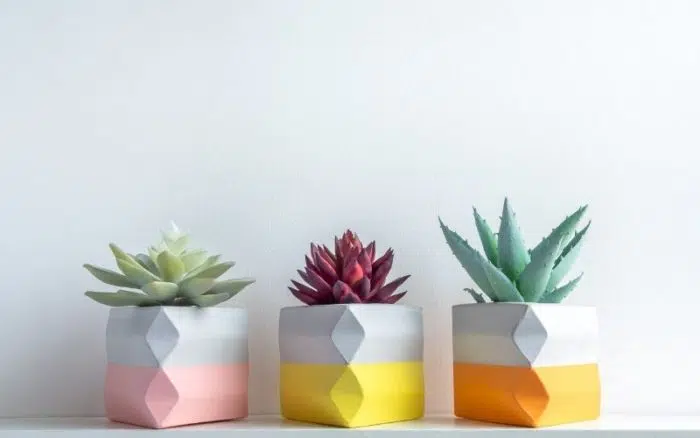 Concrete planters range from cinderblocks to more "refined" options that are created with the purpose of being used as planters.
Pros:
Durable: Concrete is a very durable material that will last for a while.
Heavy: Concrete is made of strong, natural materials which add a good deal of weight to it. This makes it strong enough to withstand winds and other elements so your plants won't get knocked over.
Lots of Variety: Concrete can be formed into a variety of shapes and sizes, making it easy to find what you want. While you might think concrete containers would be a boring gray color, these types of containers can easily be painted with masonry paint.
Cheap & Easy to Find: Using cinderblocks can be a great way to reuse some old materials you might have laying around. If you're looking for an inexpensive raised bed material with wood prices the way they are, cinderblocks could be an alternative.
Cons:
Heavy: Concrete is a mixture of sand, rock, and water – none of which is lightweight. Concrete planters can be hard to move around once established.
Might Leach Lime: Concrete contains lime which over time might make its way into your soil. While the research is sparing on this, it is a possibility over time.
Fabric (Grow Bags)
Grow bags have become a lot more popular over the past few years. They are lightweight, easy to move around, and some even have "windows" allowing you to check on root vegetables like potatoes throughout the season.
We earn a commission if you click this link and make a purchase at no additional cost to you.
| | | | | | | | |
| --- | --- | --- | --- | --- | --- | --- | --- |
| | Plastic | Terracotta | Wood | Fiberglass | Metal | Concrete | Fabric (Grow Bags) |
| Cost | $ | $$ | $$$ | $$$$$ | $$ | $$ | $ |
| Weight | 1 | 2 | 3 | 2 | 3-4 | 5 | 1 |
| Durability | 2 | 4 | 3 | 5 | 4 | 5 | 1 |
| Environmental Impact | 5 | 1 | 1 | 3 | 1 | 3 | 2 |
| Moisture Retention | 5 | 1 | 2 | 4 | 3 | 2 | 1 |
| Insulates Against Extreme Temps | No | 5 | 3 | 4 | 1 | 3 | 1 |
Things to Consider When Buying Planters
When choosing a planter for your garden, there are a number of things to consider.
Drainage Holes
Always the first to consider when growing plants in containers is making sure they have enough drainage holes. Without drainage holes, you're almost certainly at risk of overwatering your plants.
Even if you aren't necessarily the one overwatering them, outdoor planters without drainage holes can get waterlogged by even a normal rain event, and your plants' roots can drown.
Weight
Some planter materials are much heavier than others. If you are someone who likes to move things around a lot, or rearrange your container garden halfway through the season, you'll need to keep this in mind.
Even the most lightweight plastic pot can weigh quite a bit when it's full of wet soil.
Location
Where you will be placing your containers is important. If the area is getting full sun, you likely don't want to use a metal container as the material can get extremely hot just sitting in the sun. Your plant's roots might actually cook!
Frequently Asked Questions About Planter Materials
What is the Most Durable Material for Outdoor Planters and Pots?
Ceramic, fiberglass, and metal are the most durable materials for outdoor pots. However, metal can get extremely hot in the sun, so you'd be better off with a clay, ceramic, or fiberglass pot.
What is the Best Material for a Planter Box?
Because a planter box is usually hung from the outside of your home, you want something that is lightweight and durable. Wood is one of the more common options, but a lightweight metal (think galvanized steel) lined with coconut coir mats or another liner is a good option as well.