There are a lot of options when it comes to grow tent kits you can buy to grow plants indoors. It can be pretty confusing to figure out which is the best for your situation.
So I went ahead and got five grow tent kits from some of the top brands to compare them and help you decide which one to get.
Spider Farmer is a big brand in the indoor growing space, and they were kind enough to send me a 2×4 grow tent kit to review and test out. Let's get into the tests I ran, and what I like and don't like about this kit.
Do I Recommend the Spider Farmer Grow Tent Kits?
I recommend the Spider Farmer grow tent kits for the beginner to intermediate indoor grower looking for a complete solution to getting started. It included (almost) everything you need to start growing as soon as it arrives.
This tent is designed to be highly versatile, with plenty of space for both small and large plants. While it's only 2 feet by 4 feet, there is a good amount of space to grow plants inside of it.
As with many other grow tent companies, Spider Farmer offers multiple grow tent sizes to help accommodate the number of plants you want to grow.
Spider Farmer's customer service is great and their agents are very responsive. While the packaging of their tent kits leaves something to be desired, the components inside the packaging are great and will withstand years of growing.
The Pros and Cons
While I do recommend this tent for someone looking for an all-in-one solution, that doesn't mean it's perfect. Here are some of the pieces I liked and didn't like when it comes to the Spider Farmer grow tent kit.
Pros:
Affordable, but not cheaply made
More solid build quality than others in the category
Very few light leaks
Taller than other "intermediate" tents
Efficient and super bright grow light
Cons:
Loud and inefficient inline fan
Grow light gets very hot
The included ducting is low quality
Doesn't comes with grow room glasses
What Comes in the Grow Tent Kit
Most grow tent kits come with similar tools and materials to help you kickstart your plant growth. Spider Farmer does not disappoint with what they've included as well.
Before I run through the tests I completed, let's discuss what comes in the boxes so you understand why I did what I did.
Below is a list of each component, as well as what I like and don't like about each.
The Grow Tent
Spider Farmer grow tents are durable and built to avoid light leaks. Spider Farmer tents come with a thick metal frame and diamond reflective mylar as the inner fabric for great reflection and a durable canvas on the outside to help keep light in.
The grow tent features multiple vents and windows, so you can easily monitor the progress of your plants. Additionally, the Spider Farmer grow tent is made from high-quality materials, so you can be sure it will last for years.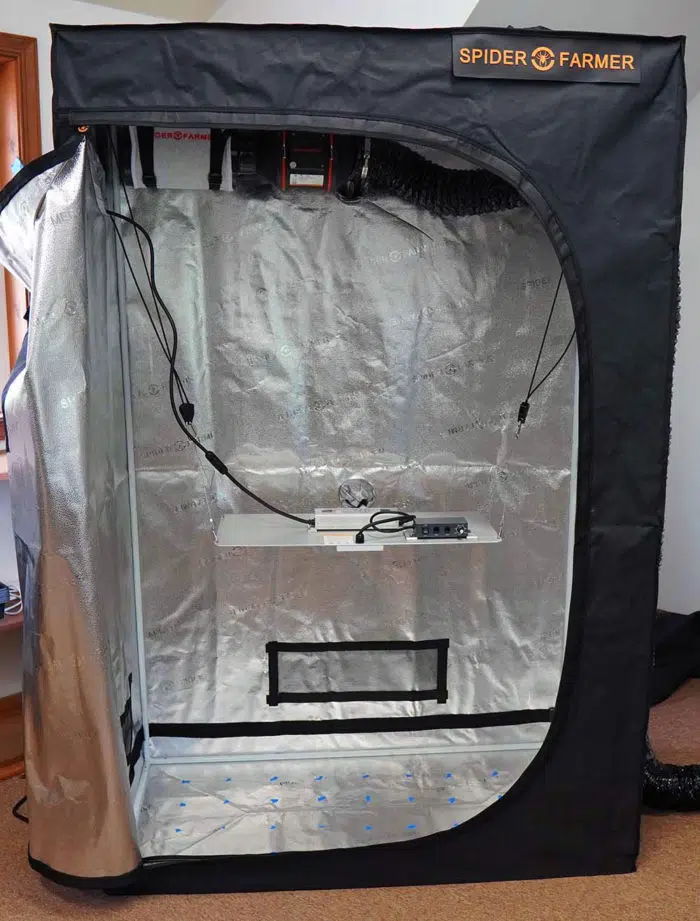 Removable Floor Tray
The grow tent also comes with a removable floor tray to help keep any water leaks on the bottom in case of a spill. A grow tent spill tray is designed to catch any water that may happen to spill inside your grow tent, and it can help prevent damage to your floor or carpeting. This can be especially helpful if you're into hydroponic growing.
The LED Grow Light
Spider Farmer includes one of their high-quality grow lights in each tent kit.
You can choose between three of their flagship grow lights:
SF1000D – 100-watt light
SF1000 – 100-watt with dimmer knob
SF2000 – 200-watt with dimmer knob
Each grow light uses Samsung LM301B diodes to help provide adequate lighting for the plants in your grow tent. The kit I got included an SF-2000 grow light, and it was quite the light.
Carbon Filter & Inline Fan
When you are growing plants indoors, you need to make sure that the air is clean and free of contaminants. One way to do this is to install an inline fan and carbon filter in your grow tent. Carbon filters remove harmful chemicals and odors from the air, keeping your grow space clean and safe.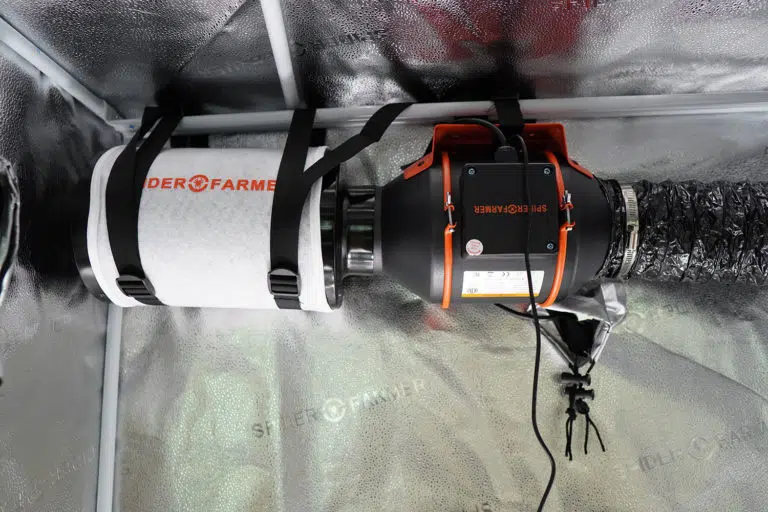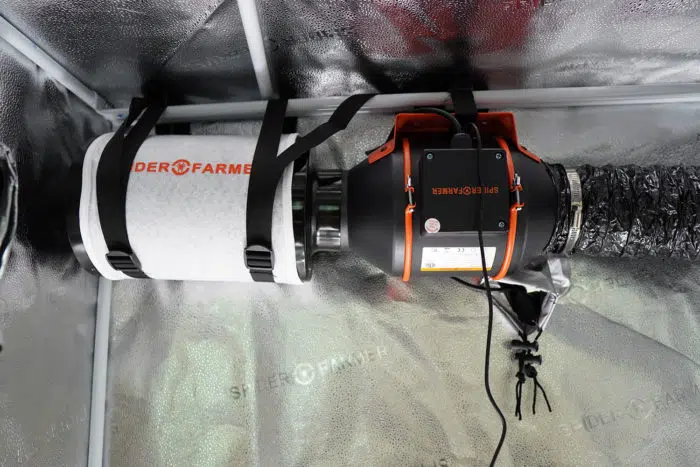 You get a 4-inch inline duct fan to help with air circulation with most grow tents. This size fits well into the aluminum ducting you get as well as the duct clips.
If you're not growing cannabis or another super pungent plant, you might not need a carbon filter. But an inline fan is essential in helping to circulate oxygen and carbon dioxide for the plants to be able to breathe better.
Air Ducting
The kit comes with a flexible aluminum ducting combo which is how you'll connect the vents and carbon filters to keep fresh air circulating throughout the tent.
The ducting included is black in color and is much longer than some of the other tent kits I've tried. But honestly, isn't as sturdy as the ductwork that comes with other tents like Vivosun.
While attaching the ductwork to the inline fan, it did rip a little bit. But, this is probably the least expensive piece of the tent kit and something you can replace very easily, so I can't really knock it too much.
You also get 3 clips to attach the duct work to the fan and carbon filter, which is a nice touch.
Digital Fan Speed Controller
The digital speed controller helps you determine how powerful you want the fan to be running. This can be super important for controlling humidity, as turning the fan lower can help a lot with increasing humidity in your tent.
It's a digital speed controller which is great to help you set up different settings and be able to have it turn off if it reaches the "alarm" setting, where you can set the highest humidity and temperature you want for your plants. Once it reaches these settings, it will automatically turn on to help keep the temperature steady and make sure the humidity doesn't get too high.
There is a slight delay from when you change a setting to when the fan turns on, but it's only a few seconds and won't really impact much.
Hygrometer
A hygrometer is an essential tool for any grower, as it allows you to monitor the humidity levels in your grow room. By keeping an eye on the humidity levels, you can ensure that your plants are getting the right amount of moisture and avoid problems such as mold and mildew.
Spider Farmer includes a Hygrometer and thermometer hybrid that measures both for you and is tied into the fan speed controller.
Light Timer
The timer included in this kit helps you set a schedule for your grow lights to turn on and off. You can really plug anything into this timer and set it to a schedule, but that is the most common use case.
This is essential for making sure your plants get enough light during the day but turns off the light at certain times to help conserve energy.
This timer isn't the "bee's knees" but it worked, and the font on the timer is much larger which is helpful if your eyesight is…starting to be questionable.
Grow Bags
While you probably have some pots or other containers you're looking to grow plants in, these kits come with 5-gallon grow bags to give you additional growing space if you need it. These durable bags can hold large and small plants but also lay flat when empty to help keep storage space to a minimum.
Trellis Plant Netting
The Spider Farmer grow kit also comes with netting for your plants to act as a trellis. This will come in handy if you're growing larger plants like peppers, tomatoes, or cannabis as these plants mature.
Testing Out the Kit
I ran quite a few tests over a couple of week's worth of testing. Here are the results of the tests I was able to run.
SF2000 Par Test
I ran a PAR test for the SF2000, and you can see all of the charts and data from that test over on my full SF2000 review.
Here is an aggregation of the data to help you see what I found.
| Measurement | 12 inches | 18 inches | 24 inches | 30 inches |
| --- | --- | --- | --- | --- |
| Average PPFD (μmol/m2/s) | 780.1 | 668.7 | 581.8 | 521.0 |
| Test Area (m2) | 0.7 | 0.7 | 0.7 | 0.7 |
| Total PPFD (μmol/s) | 561.7 | 481.4 | 418.9 | 375.1 |
| Wattage (watts) | 204.0 | 204.0 | 204.0 | 204.0 |
| Efficiency (μmol/j) | 2.8 | 2.4 | 2.1 | 1.8 |
| Uniformity | 1.4 | 1.4 | 1.4 | 1.4 |
| | | | | |
Spider Farmer recommends a hanging height of 12-14″ for flowering stages. For flowering, you usually want a PAR level (PPFD) of around 750.
I went ahead and tested the light at different heights to get measurements, and this is the PAR chart I got from hanging the SF2000 at 12 inches.
Here are the hanging height recommendations from the Spider Farmer booklet that comes with the SF2000:
Germination: 22 inches
Seedling: 16-22 inches
Vegetative: 14-16 inches
Flowering: 12-14 inches
With the average PPFD being at 780 from my PAR test, 12 inches does seem like a good height for flowering.
Light Leak Test
Light leaking out of the grow tent can impact how efficiently your grow light performs. While a few pinhole leaks aren't going to drastically reduce the effectiveness, enough of them can.
I wanted to test out how much light leaks out of the 2×4 grow tent and was pleasantly surprised. Some other companies only have single stitching for areas of the tent, but Spider Farmer used double stitching (almost) everywhere.
There was no light leaking out through the zippers, and the only real problem areas were the one vent window on the right side at the bottom of the tent, and a few areas on the top of the tent.
Overall, this tent performed much better than some other tents I've tested, so I was happy with the results.
Spider Farmer Grow Tent Kit Review
The Spider Farmer grow tent kit is overall a great option for growers, beginners and advanced alike.
Pros: What I Liked
Durability
The grow tent was more durable and just felt like it was built better than some of the other competitor tents I tried. I actually smiled when I set it up because I was just getting excited to use it.
The sturdy zippers and construction of the tent make me feel like it'll be around for a long time. The zipper also has a flap on the outside of the tent to help prevent light leaks if it were to wear down in the future.
Because of the well-thought-out nature of the zippers and the double stitching, it had a lot less light leaks than I found with other tents.
SF-2000 Grow Light
The SF 2000 grow light is a great option and I'll definitely keep using it for future grows. It fills out the 2×4 growing space quite nicely and comes with a very customizable dimmer switch.
Some other grow lights only give you 3-5 settings, but with the SF2000 you can set it anywhere from 0-100% brightness.
You are also able to daisy chain these lights together if needed, which is a good option.
While it can get quite hot, blowing a fan around the top of the light (which most advanced growers do anyway) can help disperse the heat.
Digital Fan Speed Controller
The digital fan speed controller is a very nice addition to the kit. You can set up to 10 settings, making it super easy to control the grow tent temperature conditions and humidity. It also comes with a few hanging options so you can attach it to the tent, or a nearby wall if that fits the space better.
Cons: What I Didn't Like
Packaging
The packaging for each piece of the kit left a lot to be desired. While everything came in great condition, it just doesn't instill that feeling of "brand quality" when it's opened.
The main box is clearly something that was shipped from China and they don't hide that – good and bad. However, once you actually start using the components, you quickly forget about that and know they are going to last.
Inline Fan
The inline fan feels kind of cheap. It's loud and doesn't have a speed controller on the fan itself, so you need to use the controller to get anything less than full power.
Reviews on Amazon talk about needing to replace the fan, and even buying a different brand. However, that was with the older model, and I feel like this one isn't as loud and is built better, but I can't get those comments out of my head.
The Grow Light Gets Hot
The grow light gets quite hot, and when I tested it the temperature on the power box attached to the top of the light was 135 degrees Fahrenheit after being on for a few hours. You need to keep this in mind as you raise the lights because putting it too close to the ceiling of the tent can lead to melting and other issues.
But because of the taller height of the tent, you have more space to play with. Either way, I recommend running a clip-on fan aimed at the top of the grow light to help disperse that heat.
No Grow Glasses
No grow room glasses are included in this grow tent kit. Grow lights can get SUPER bright, and if you're working in the grow space everyday, you need to protect your eyes from those harmful rays.
With a light as bright as the SF2000, I would love to see them include even a beginner-friendly pair of grow room glasses.
Is The Kit Actually Cheaper?
Grow tent kits can be pretty expensive, so is buying the kit is actually more cost-effective than buying the individual pieces.
Let's break down each piece and see how much you actually save by buying them all together.
| Item | Cost |
| --- | --- |
| 2'x4' Grow Tent | $149.99 |
| SF2000 Grow Light | $299.99 |
| Ventilation Kit (4" Inline Fan, Speed Controller, Carbon Filter, Ducting, Ducting Clips) | $169.99 |
| 5 Gallon Grow Bags | $19.99 |
| Thermometer and Hygrometer | N/A |
| Light Timer | N/A |
| Light Hanging Straps | N/A |
| Trellis Plant Netting | N/A |
| TOTAL | $639.96 |
| TOTAL KIT COST | $569.99 |
If you look at the separate pieces that come with the grow tent kit, the total cost ends up being over $100 more, and you don't get the items listed as "N/A" because they aren't sold by Spider Farmer as separate items.
I'd say the grow tent kit is pretty cost-effective when you look at it that way. But it's going to come down it whether you want to spend the time building a DIY kit and ordering the components separately. Most beginners would be better off buying the entire kit and swapping out pieces as they gain more experience and learn what works and what doesn't for their growing environment.
The Spider Farmer Grow Tent Kit: Worth It in 2022?
Spider Farmer puts together a super solid grow tent kit for indoor growers. The grow light quality by itself is awesome, and the other features they provide are perfect for the beginner to intermediate grower.
Some people mentioned problems with light leaks, but this can happen if the tent is stretched in the wrong ways during setup, so you need to be really careful with any tent setup process.
If you're a super-advanced grower, you might want to check out the Gorilla grow tents, or AC Infinity, as their carbon filters and other inclusions are a little more high quality.