Watering wands are one of the most underrated tools for gardeners. Also called "Turret wands", they allow you to get plants that are too far away for a regular hose or sprinkler, and they have a gentle spray that is perfect to use on delicate flowers and seedlings. A watering wand also acts as an extension of your arm so you can water more quickly than with just a hose.
Watering wands help protect your plants from the serious force a typical hose uses to distribute water.
The Best Watering Wands
My Top Pick
Made with aluminum making it lightweight, yet durable
Rubber foam along the wand for additional protection at the natural wearing point.
Weight: 16 ounces
Length: 24 inches
We earn a commission if you click this link and make a purchase at no additional cost to you.
The Green Mount watering wand is my favorite by far. It's durable, built to last and is simple to use.
Length: 24 inches
Weight: 16 ounces
Adjustable flow rate: Yes
Build Quality: 8 out of 10
While this wand looks less "fancy" than others because there aren't options to change the settings for how water comes out (i.e. Jet, Cone, Shower, etc.), it's actually a more robust product.
Most of the terrible reviews for other watering wands talk about how the setting adjustment knob breaks after one season. But since the Green Mount doesn't have that, it can't break! 🙂
Similar to the Dramm watering wand, the Green Mount wand is a beast if I've ever seen one!
A lot of the other watering wands you'll find will start to wear down more easily over time, and I have a hunch that it's due to the adjustable settings they offer. This wand has the one setting and gets quite a bit less complaints from purchasers about leaking after one season.
There is an option to hold the trigger in the on position so you don't have to hold it the entire time you're watering. This is an excellent feature if you suffer from hand fatigue and/or have arthritis.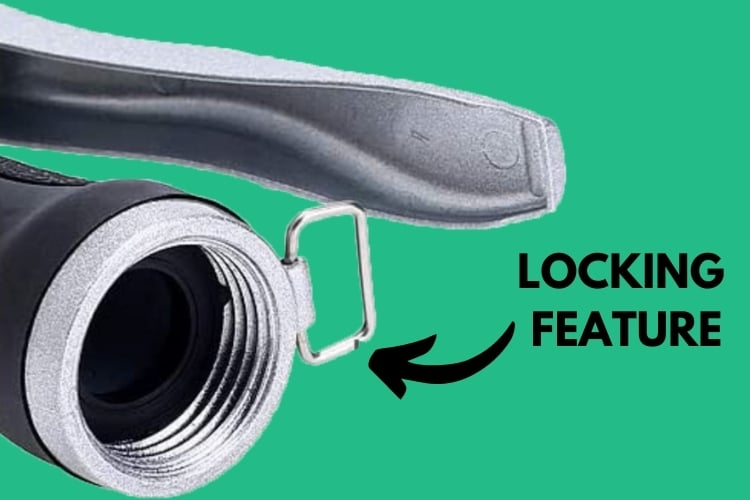 While this watering wand gets the most 4 and 5-star reviews on Amazon, any hose or hose attachment will tend to leak eventually. Make sure you store the rubber washers provided in a safe place so you can easily replace them when needed.
Go ahead and snag my favorite watering wand here.
Ratcheting head
Front Trigger
10 patterns
Weight: 18.5 ounces
Length: 30 inches
We earn a commission if you click this link and make a purchase at no additional cost to you.
The Most Versatile Watering Wand
Length: 30 inches
Weight: 18.5 ounces
Adjustable flow rate: Yes
Build Quality: 7 out of 10
While it's not my favorite, it's still a great product!
The angled head on the Orbit wand is awesome! It adjusts 180 degrees so you can stay in the same position and target your plants better even in pretty tight corners.
You can set it to continuously spray without needing to hold the trigger the entire time, which will save your hands a lot of stress.
There are 9 settings for you to be even more flexible as you water your plants:
The variety of spraying options allows you to easily water rows or plants that are around 30 feet away.
With this wand, there are a lot of comments about leaks. If this happens to you, you'll want to change out the rubber washer where the wand attaches to your hose as it can wear down over time.
The Orbit watering wand is a great option for you if you want a lot of versatility and a well built product. Plus, there is an option to buy it as a 2-pack so you can use these wands in a few different places around your garden.
Length: 15 inches
Weight: 12.8 ounces
We earn a commission if you click this link and make a purchase at no additional cost to you.
The Best Budget Watering Wand
This is about half the cost of the others on this list (around $10) so it comes in as the best budget option. It's also the most lightweight wand on this list, so if that's a dealbreaker for you then this could be the right one for you.
Length: 33 inches
Weight: 7.2 ounces
Adjustable flow rate: Yes
Build Quality: 5 out of 10
The Melnor watering wand is great for those budget conscious or those who need the most lightweight option. However, there are a lot of complaints about leaking and the wand breaking, which is why I rated the build quality a 5 out of 10.
If you want something that will stand the test of time, go with the Green Mount instead.
With the Melnor wand, you do get the ability to adjust how quickly the water comes out, but there is no extra settings, which again isn't a bad thing. You also get the RelaxGrip which is very comfortable to use and will allow you to water for long periods of time.
The Benefits to Using a Watering Wand vs a Standard Hose Nozzle
Like I said above, a watering wand is one of the most important tools for gardeners. Why, you ask? Well, aside from giving your plants a drink.
1. You Avoid Getting the Foliage Wet
A lot of plants don't do well when their leaves are always wet, this is especially true for tomatoes as it can lead to problems like tomato leaf curl and fungal diseases. This is why it's commonly recommended to water the base of your plants, not just spray them from above.
Watering wands make it much easier to water your plants at the base.
2. You Can Easily Water Hard to Reach Plants
Watering wands help you water plants that are far away or too high up. They also have a gentle stream of water that is perfect for delicate flowers and seedlings. You can use the watering wand as an extension of your arm, so if you have trouble reaching higher plants, or don't want to be constantly bending over to water just the base of your plant, this is a great tool.
3. They Use Less Force
Typical hose nozzles use quite a bit of force to get the water out. This can be a problem if you have sensitive plants, or are trying to water plants that require delicate care.
4. They Waste Less Water
A typical hose will use about a gallon of water for every minute it's left on. That means that if you are watering your plants' base, and using the wand to get their foliage wet as well, you'll be wasting quite a bit of precious water, but watering wands help you avoid that.
5. You Won't End Up With Wet Hands and Shoes
I don't know about you, but whenever I go out to water my plants I ALWAYS end up wet in some capacity.
Maybe it's because I'm using a hose or watering can, but either way this is no fun. With watering wands, you're applying water to plants from above and not touching them at all – meaning that your shoes won't get wet causing you to track more dirt into the house – sorry, babe!
What to Look for in a Watering Wand
There are a few things you'll want to keep an eye out for when purchasing a watering wand for your garden.
1. Length
The length of the hose is important to consider when you're purchasing a watering wand. If you need to be able to reach high places, you'll want to find one that is long enough. While most watering wands will fit the bill, just double-check before purchasing.
2. Weight
If you have a large garden and will be watering each day for long periods of time, weight can be important. Most of the ones on this list are built with aluminum, which is a lightweight but durable metal. For most, these will work great, but if you need the lightest option, the Melnor is the one for you.
3. Build Quality
I'm not a huge fan of buying something that only lasts one season, and some of these watering wands on the market today are built with a budget in mind, not necessarily how long they will last.
Green Mount seems to be the one that will last the longest, and that's why it's my favorite option.
4. Options to Adjust Water Flow
If you are looking for a way to water your plants, flowers, or vegetables easily and efficiently without wasting any of the liquid then check out our blog post on how to find the best watering wands.
The Orbit watering wand is the most versatile and will allow you to select different spraying options.
Watering Wands for the Win!
Watering wands are probably the most underrated tools for gardeners. With a good watering wand, you can save time and water, and make sure you're properly watering your plants so they can grow strong and provide you with a great harvest!
I hope you liked this take on the best watering wands out there and it helped you decide which one to buy.