Having an indoor garden can make growing plants much easier without having to worry about the weather, pests, or what season you want to grow in. You can grow all year long in your grow room and get a head start on the outdoor growing season by starting seeds early if that's your thing.
But growing inside requires quite a few moving pieces to make sure you have the perfect growing environment. Buying everything separately requires you to be sure everything works and fits together, and the costs can add up quickly. That's where complete grow tent kits come in. You get everything you need to start growing today.
It's like an indoor grow room in a box! I've put together a list of the top 3 grow room kits, and have a buyer's guide towards the bottom if you need more information on what to look for. Let's jump in!
The 3 Best Grow Tent Kits 2022
When you buy grow tent kits you're getting everything you need to be up and running with your indoor garden right away. It's so much easier than buying a grow tent, a separate light, a separate ventilation system, and on and on.
1. Gorilla Grow Tent Kit
👉 Highest Quality Grow Tent Kit
My favorite grow tent kit comes from a growing company called Supercloset. They combined the high-quality Gorilla grow tent kit, with other top-name players with respect to the grow lights, etc.
Gorilla is said to be the best brand in the grow tent market. The company even shows just how durable their grow tents are by having 3 people on their team hang off of the stability bars.
That's a pretty cool way to prove that these are built to last and they're not some fly-by-night company.
We earn a commission if you click this link and make a purchase at no additional cost to you.
You can grab a high-quality Gorilla grow tent kit here. They have different options for regular grow rooms using soil and hydroponic options as well.
Here's what's included:
Gorilla grow tent providing maximum durability
Kind LED x420 Grow Light
WiFi Grow Cam so you can watch your plant babies from anywhere
Premium carbon filter
Premium inline steel fan
Internal fans for air circulation
Trellising system for your plants
Hygrometer / Digital thermometer for temperature and humidity measurements
Hydroponics pH control kit
6 socket power strip with surge protection
The individual components of this kit are expensive on their own, but purchasing them together makes it more convenient and a little cheaper as well.
While it does come at a premium, these kits are going to stand the test of time. And they are backed by a quality brand name.
2. Vivosun Grow Tent Kits
"Best Grow Tent Kit for Beginners"
Vivosun has a wide variety of grow tent sizes and kits you can buy. Sticking with the 4×4 theme, this one is one of their more popular options for indoor grow tent kits.
Here is my full review of the Vivosun Grow Tent Kit.
Vivosun 4x4 ft. Complete Grow Tent Kit
Pros:
Comes with everything you need to get started, including pruning shears

Easy setup
Cons:
Some people have light leak issues after a while, but most reviews say they're super durable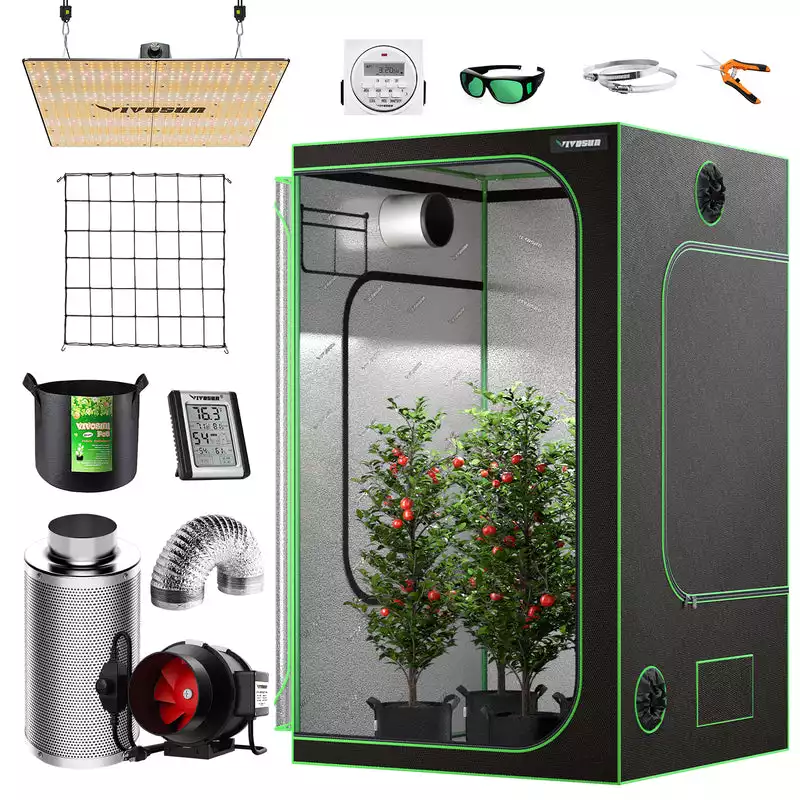 We earn a commission if you click this link and make a purchase at no additional cost to you.
The Vivosun grow tent has a great observation window for viewing your plants without having to unzip the entire tent, and mess with the humidity and temperature at all.
The Vivosun tent is like the middle-of-the-road grow tent kit: it's not the cheapest, but it's not the most expensive either. It's a great quality tent kit at a good price.
This kit comes with everything you need to set up a new grow room:
4×4 foot grow tent (6 feet tall)
VS2000 LED grow light
6″ inline ventilation fan (440CFM)
6″ carbon filter that fits perfectly in the grow tent
8ft aluminum duct w/ clamps to connect carbon filter
Grow light hangers
5 x 5-Gallon grow bags
Elastic trellis netting with hooks
LED light glasses to save your eyes
Temperature humidity monitor
Pruning shears (the same ones I use and love)
Programmable light timer
The full spectrum grow light this kit comes with normally sells for $259 by itself. The other components add up quick and you're definitely saving money as opposed to buying each of these together.
The light is full-spectrum meaning it will support all growth stages for your plants. As you get more sophisticated and have more specifics for each plant, you might want to upgrade the light, but this is beyond a starter grow light, and fits perfectly inside the tent.
What I didn't love about it is that it's about 1.5 feet shorter than some of the other brands of tents. If you're just using it for plant starts, or growing shorter plants, then it's a good option.
3. Mars Hydro Grow Tent Kit
👉 "Cheapest Grow Tent Kit"
Mars Hydro is another brand that has a full grow tent kit for purchase.
If you're an indoor gardener looking for a professional-grade grow tent kit, look no further than the Mars Hydro Grow Tent Kit.
MARS HYDRO Grow Tent Kit
The Mars Hydro kit comes with everything you need to get started growing indoors.
Pros:
Durable and long lasting

Comes with a 3 year warranty

Easy to clean
Cons:
Instructions can be confusing

Grow light quality could be better
We earn a commission if you click this link and make a purchase at no additional cost to you.
This top-of-the-line product is constructed with high-quality materials and comes with a 3-year warranty on the grow light. Plus, the customer service is unbeatable and they will almost always get back to you within 24 hours.
The Mars Hydro LED light comes with an aluminum hood, which reflects even more light back onto your plants. It's said that this feature increases the productivity of this grow tent system by 20%.
While the Mars Hydro tent kit might not be the highest quality, it is going to be the most cost-effective for the size.
4. Vivosun 2-in-1 Grow Tent Kit
Vivosun also has the option to get a "double" tent, which allows you to set up a veg room and a flowering room without buying two separate tents.
While the space in these is slightly smaller than you'd get with buying two separate tents, you save quite a bit of money in the process.
We earn a commission if you click this link and make a purchase at no additional cost to you.
This double-sided grow tent comes with a high-quality grow light, ventilation system and my favorite heat mat.
What to Look for in Indoor Grow Tent Kits
There is a variety of grow tent kits out there for purchase. But how do you know which ones are any good, and what should be included for you to get started right away?
There are a few simple components to a grow room kit:
The grow tent – this one's pretty obvious, but yes it comes with a grow tent first and foremost.
LED grow lights – most grow tent packages come with LED lights as a sunlight replacement
Light timer – to help you automatically set when the lights turn on and off
Trellis netting – this is to keep plants growing upright as they get bigger
Ventilation inline fan – to keep the air fresh
Ventilation ducting – to properly send the "unfresh" air our and replace it with higher quality air
Ventilation filter – this is how the air gets cleaned
Thermometer/hygrometer – to help you keep an eye on the temperature and humidity in the grow tent
Grow Room Glasses – if you don't already have a pair, the ones that come included are definitely a great start.
Grow Tent Sizes & Plant Capacity
Grow tents are typically measured by their width x length, with the height coming last. So if you hear someone talking about a 4×4 grow tent, it means the width is 4 feet and the length is 4 feet, but those are usually around 6-8 feet tall.
When you're just getting started, you might be okay with a 2×4 foot grow tent.
Bigger isn't always better in terms of grow tents. Remember that you need to have adequate lighting to support the number of plants in the space. This can increase costs as grow lights aren't exactly cheap. But upgrading in the future can increase costs as well, so it's a balancing act in terms of the grow tent size you're looking for.
However, you want to make sure you have enough space to grow the plants you're looking to grow. Since many growers put plants in 5 gallon bags, the capacity below follows that logic.
Some common sizes are listed in this chart along with their plant capacity.
| | | | | |
| --- | --- | --- | --- | --- |
| Grow Tent Size | Length | Width | Height | Plant Capacity |
| 2×4 Grow Tent | 48 inches | 24 inches | 60 inches | 2-4 Plants |
| 3×3 Grow Tent | 36 inches | 36 inches | 72 inches | 2-4 Plants |
| 4×4 Grow Tent | 48 inches | 48 inches | 80 inches | 6-8 Plants |
| 5×5 Grow Tent | 60 inches | 60 inches | 80 inches | 8-10 Plants |
| 4×8 Grow Tent | 96 inches | 48 inches | 80 inches | 12-16 Plants |
| 8×8 Grow Tent | 96 inches | 96 inches | 80 inches | 24-36 Plants |
| 10×10 Grow Tent | 120 inches | 120 inches | 80 inches | 24-32 Plants |
LED Lights
LED lights can be one of the most tricky parts of growing indoors, especially for beginners. The terminology can get quite confusing, but luckily, most of the grow tent kits include adequate lighting for most stages of growth.
The amount of strength you want for grow lights is dependent on what you're growing in there, as well as the stages the plants will be in. Vegetative plants need less energy from grow lights than flowering plants. While most LED lights that come with a grow tent kit are going to work well, you just want to double-check to make sure.
Ventilation and Air Circulation
When growing an indoor garden, especially in a grow tent, you're going to need to keep ventilation in mind. Fans help circulate the air around, while ventilation helps filter the air that's coming in.
Thankfully, grow tent kits come with the proper ventilation and filters to get you started.
The Best Tent Kit for the Type of Growing Will You Be Doing
An indoor grow tent can add a lot of flexibility for gardeners who need some indoor grow space.
If you're a hydroponic gardener, you'll want to keep your eye out for specific grow tent kits that cater to a hydroponic system. Some come with pH meters and specific plant nutrients for that as well.
You can also get a small grow tent for an indoor herb garden such as Aerogarden or Click and Grow. You can get larger tents as you expand and want more growing room for bigger and more plants.