Not everyone has the space or knowledge to construct a grow room from scratch. Luckily, there are plenty of grow tents on the market that can provide a perfect environment for growing plants indoors.
If you're looking for a grow tent that comes with everything you'll need, including a grow light, ventilation system, timer, trellis, and more, check out the best grow tent kits.
The Best Grow Tents in 2022
Not all grow tents are created equal. Some have thicker fabric, while others are more cost-effective and budget-friendly. I tested all of these in the same size, so while the companies offer more variety in sizing, I wanted to keep all tests consistent – so you'll see 2×4′ mentioned a lot.
Gorilla Grow Tents – Lite Line
👉 The Highest Quality Grow Tent
Gorilla is one of the biggest names in the grow tent space. The durability of their tents is hard to match, and they last a long time.
But that durability comes with a price tag, so this is coming in as the most expensive option on the list. Thankfully, their "Lite Line" is a more cost-effective option, but they are smaller.
Gorilla Grow Tent Lite - 2'x4'
Pros:
1 foot height adjuster (up to 7 feet)

Steel, interlocking frame that holds up to 300 lbs

Micro mesh pre filters for trapping more light inside

Double cinching duct ports
We earn a commission if you click this link and make a purchase at no additional cost to you.
The Gorilla tent is top-notch and includes all kinds of special features. The main one is their height adjustable poles. If your plants end up outgrowing the space and you need to raise your grow light a bit, these poles offer a whole additional foot of growing space, bringing the height of the tent to 7 feet.
You don't see this capability with other indoor grow tents, and they even have a pending patent for them. Gorilla tents are the "premium" options on the market, and if you have the money, I'd recommend splurging a bit. Why? Because it's going to last you longer. And if it doesn't, they
If you want to get the full Gorilla grow tent kit with lights, ventilation and more, you can find that here.
Gorilla Grow tents come in a wide variety of sizes:
2′ x 2.5′ x 5'7″
2′ x 4′ x 6'7″
4′ x 4′ x 6'7″
4′ x 8′ x 6'7″
8′ x 8′ x 6'7″
Their full "heavy duty" line has a few more sizes, including the much larger options. For typical home growers, you are probably better served with their Lite line because the quality is just as good, but the fabric is slightly less dense and you don't get some of the bells and whistles.
Vivosun Grow Tents
VIVOSUN 4x2 Grow Tent
Pros:
Great customer service

Double lined zipper for max light retention

Nylon exterior

Cost effective
Cons:
Not as strong as some other competitors
We earn a commission if you click this link and make a purchase at no additional cost to you.
Vivosun grow tents are a great option for those who want a quality tent without the crazy prices. They are leaps and bounds better than a generic brand you'll find on Amazon, but aren't as premium as a Gorilla or Mars Hydro tent.
Spider Farmer Grow Tents
Spider Farmer Grow Tents
Pros:
Diamond mylar canvas

Claim to be the thickest tent with 1680D Oxford canvas to prevent light leaks

Easy installation
Cons:
Only 140 lbs weight capacity (plenty for most, not for some)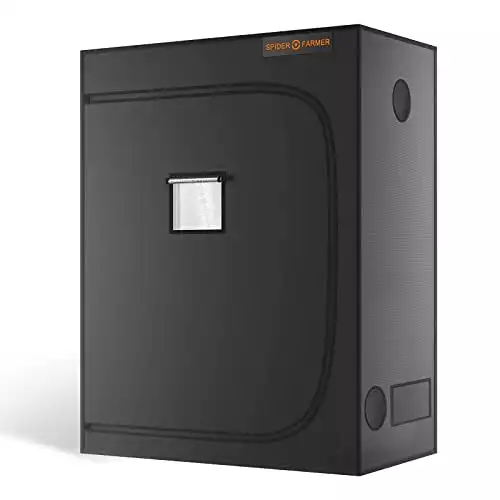 We earn a commission if you click this link and make a purchase at no additional cost to you.
I love this grow tent and still have it set up in my grow room. It's a great size, is super durable, and is pretty cost-effective for the average buyer.
AC Infinity
The "Sleeper" Pick – Great Value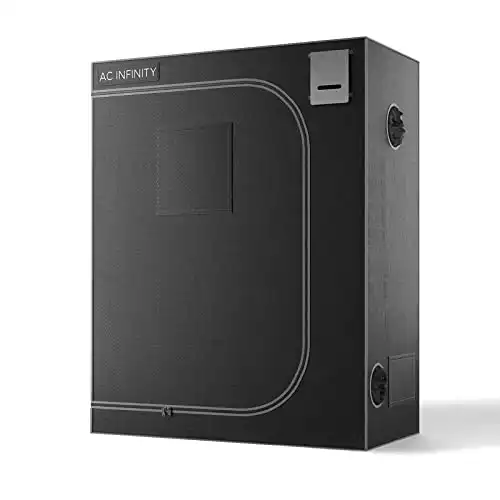 We earn a commission if you click this link and make a purchase at no additional cost to you.
Mars Hydro Grow Tents
Best Middle of the Road Tent
Mars Hydro is another great brand when it comes to indoor growing equipment. Their indoor grow tent has one of the more reflective surfaces of these 5, and it's not a super expensive option.
They offer grow tent packages, but by itself, this cheap grow tent might be low in price, but isn't cheap in build quality.
For an indoor grow room, it's great option to
MARS HYDRO 2x4x6 Grow Tent
Pros:
Really reflective interior

Removable floor tray

Easy to install
Cons:
No warranty - 30 day refund period
We earn a commission if you click this link and make a purchase at no additional cost to you.
Grow Tent Buying Guide
When choosing a grow tent, it is important to consider the size of the tent and the type of plants you will be growing. Some tents come with extra features like built-in ventilation and waterproof flooring.
Grow Tent Size
When choosing a grow tent, one of the most important considerations is the size of the grow tent. While it may be tempting to buy the largest tent possible, it's important to make sure that the tent will fit in the space where it will be used.
Reflective Material & Interior Walls
When you're growing indoors, you want the highest amount of light reflected that you can. Any light that seeps out through cracks or holes is going to decrease the effectiveness of your grow lights.
The industry standard is diamond mylar, some put regular mylar or another version of reflective film. The reflective material improves lighting efficiency, but the more upscale versions of this do help spread light more evenly.
Grow Tent Fabric (Exterior Material)
Another important consideration is the type of fabric used for the tent. It's important to make sure that the fabric is thick enough to block out light, but not so thick that it prevents air circulation. You want something that is thick and isn't going to let out light, but also something with a light footprint to not trap heat and increase the weight of the tent fabric too much.
Pole Materials & Weight Capacity
The grow tent pole capacity is an important factor to consider when setting up your indoor garden. The capacity refers to the amount of weight that the tent can support when fully assembled.
But you might be wondering why the weight capacity matters so much. Why is Gorilla so proud of their 300 lb weight capacity? I'm not going to be hanging my plants!
Well, equipment can get heavy. And in a grow tent, you're going to be hanging your lights, ventilation system, and other cords and pieces. If you are planning on growing large plants, or if you have a lot of equipment, you will need a grow tent with a higher capacity.
Tent Ventilation
While most solo grow tents won't come with a carbon filter and ducting, you want to make sure you get something that fits your ventilation equipment.
Unlike outdoor growing where your plants are constantly getting fresh air, indoor grow tents kind of keep air stagnant. That's why you need to make sure you're getting some sort of air filters to cycle the "old" air out, and bring in fresh air.
If there is no air movement and flow, the plants will suck all the CO2 out and won't have any good air to "breathe" in. The suggested plant count in a 2×4 tent is between 3-6 depending on the size of the plants. With that much going on, you're going to need some ventilation.
You want to look for grow tents that have ventilation flaps near the bottom of the tent.
This allows you to open them, or leave them closed if you have a better system for ventilation turned on.
Floor Trays
A lot of the "nicer" tent brands will include what's called a floor tray in the tent package. It's essentially a removable spill tray that makes it easy to take out and clean between growing sessions.
These are a no brainer to look for in my opinion. Without them, you are going to have a much harder time keeping your tent clean, which can lead to plant disease and other problems.
Grow Light Capability
You want to make sure the height of the tent is compatible with the strength of the grow light you will be using. You can use a light meter (around $12) to check and make sure your plants are going to be getting adequate light.
If you're buying grow tent kits, you're going to get a light included. But if not, you want to make sure the light is the right side and strength for that tent.
The Best Grow Tent?
Indoor gardening is a great way to extend your gardening season, or creating a perfect environment for hydroponics or other plants you can't necessarily, grow outside 🙂