Vertical farming has become extremely popular over the last 20 years because it can be used in small spaces, like an apartment, or in a smaller warehouse in the middle of a large city.
Unlike traditional gardening, vertical hydroponics also save water, and don't require as much space to grow the same amount of plants. There are a variety of types of hydroponics that are a great option for those living in small spaces to be able to grow their own produce and save some money on groceries, while learning about where their food comes from and building more healthy habits.
But most of the aeroponics or hydroponics gardens you find are more of a DIY method, instead of being able to buy a kit. I compiled these options to help those just getting started with hydroponics to be able to have an "all in one" type solution.
The 3 Best Vertical Hydroponic Systems
There are a lot of options for grow towers on the market, but here are the top vertical hydroponics systems I've found so far.
1. Lettuce Grow Hydroponic Tower
The Lettuce Grow Farmstand is a true vertical hydroponic systems you can place in the corner of a room, or on your patio. It's almost fully automated, and doesn't require much of a time commitment, making it great for beginners.
We earn a commission if you click this link and make a purchase at no additional cost to you.
You can choose from a variety of sizes, and the ability to grow between 12 and 36 plants in one vertical grow tower. They also include a nutrient solution that will help keep your veggies well fed and growing.
All Lettuce Grow towers come with the ability to use their mobile app to get reminder to water and feed your vegetables.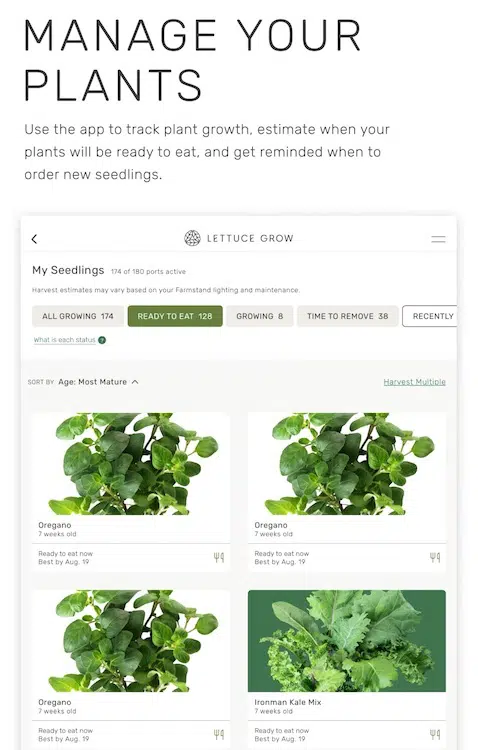 2. Vivosun Vertical Hydroponic System
The Vivosun vertical hydroponic garden works great for a beginner to hydroponics who doesn't want to have to plan and build it out themselves.
Vivosun Hydroponics Grow Kit
Includes planting pipes, pump timer, water pump, planting baskets, step-by-step instructions
Great starter kit for beginners
Nutrient film technique setup
Fits perfectly in a standard 48 inch grow tent
41" x 15.75" x 36.22"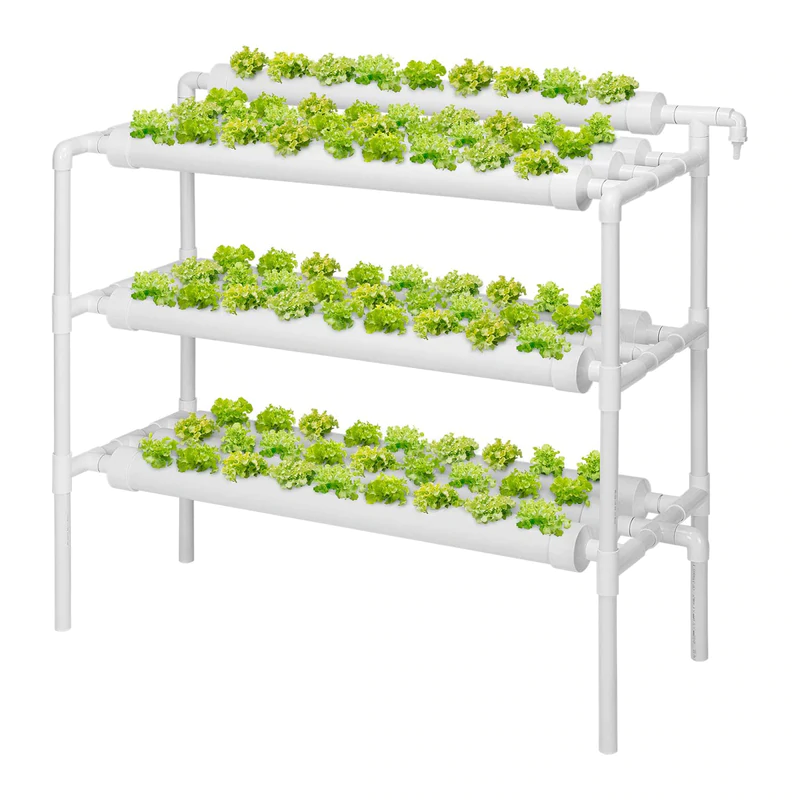 We earn a commission if you click this link and make a purchase at no additional cost to you.
The Vivosun vertical grow tower uses the nutrient film technique (NFT), where the plants are on a slight inclined ramp and the water flows down through the system, and then is pumped back up to the top. This saves nutrient solution by constantly moving it around and reaching all the plants.
Because it's only 41 inches long, you can set this up in a grow tent as well, creating a whole separate space for your garden. Plus, having the grow tent floor below will make it less messy if water does spill while you're filling it up.
3. Aerospring Indoor Growing System
The Aerospring growing system is the most expensive on this list, but it's also the most complete hydroponic system. It comes with its own grow tent to perfect the humidity and space.
But also includes a fan for circulating the air and 6 LED grow lights to make sure each side of the tent gets enough light for the plants to grow. If you're going to be growing indoors, and know nothing about grow lights, this could be a great option for you to get started.
We earn a commission if you click this link and make a purchase at no additional cost to you.
DIY Vertical Hydroponics System
You can also make your own vertical hydroponic system at home using materials you can get at a local hardware store.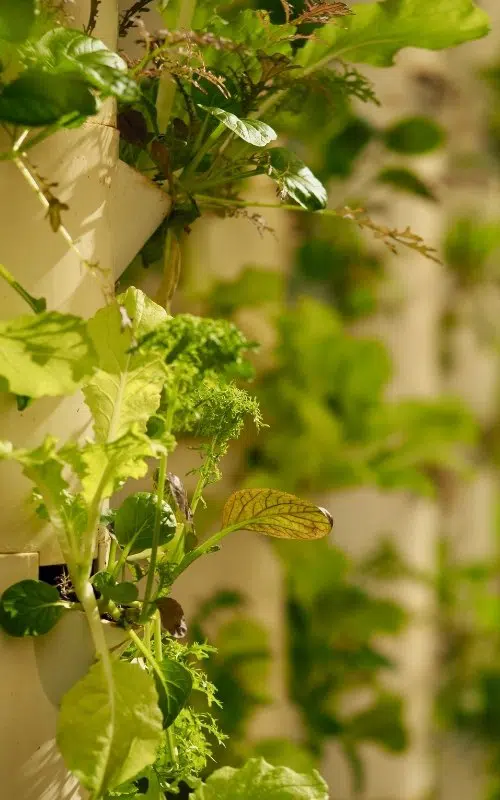 Most DIY hydroponics systems require materials like:
PVC pipes
Water tank
LED Grow lights
Light timer
Submersible water pump
Water pump timer
Silicone or PVC epoxy
A drill
PVC cutter / ratcheting hose cutter
There are a ton of hydroponic system plans, and all will give you different instructions, but the gist of it is the same.
It's also going to depend on the type of hydroponic system you want to create. You can get started with a simple mason jar hydroponics setup if you're new to this method of growing.
How Does a Vertical Hydroponic System Work?
While all of these tower garden systems have slightly different methods, they all use a similar technology in vertical farming. The plants roots are consistently dripped a nutrient rich water solution, that gives them everything they need to grow fast and healthy. Many of these used what's called drip system hydroponics.
This gives the plants all of the nutrients they need to grow, while taking up less space than a typical "soil" garden uses, while allowing you to grow most crops year round.
These towers also have a lot more room for planting surfaces, compared to a typical "flat" growing system since they're taking advantage of the height as well.
What to Look for in a Hydroponic System
There are a few things to consider when choosing a vertical hydroponic system, including the type of plants you want to grow and the amount of space you have available.
What Plants You Want to Grow
The first thing to consider when choosing a vertical hydroponic system is the type of plants you want to grow and how many of them you want to grow.
Some plants, such as tomatoes and cucumbers, will need to be supported by a trellis or other structure. This can be difficult to find with a vertical system that's planting upward, instead of something like an Aerogarden that horizontally grows plants, while allowing tomatoes and other vining vegetables to use the upward space.
Others, such as lettuce and herbs, can be grown without support making them perfect for a system like this.
What Size Space You Have
You will also need to consider the amount of space you have available. Vertical hydroponic systems can be as small as a single shelf unit or as large as a multi-tiered system.
While these vertical grow towers help save space, you still want to make sure you're going to have enough room to move around them. When filled with water, they get very heavy, so moving them after the fact might be a little challenging.
Ensure that plants have room to grow out, and the tower isn't flush against the wall. For example, a basil plant is going to need quite a bit of space to become bushy, whereas chives grow straight upward, so they won't need as much room.
Hydroponics & Vertical Farming
The ability to use soilless systems for growing plants and vegetables is thought to be great for the environment. Using less water, not needing arable land, and no heavy machinery, it reduces greenhouse gas emissions while also reducing nutrient loss and pest issues that typically arise with ground surface farming.
You also don't have to worry about weeds and other pests eating your crops since they're usually grown indoors.
Hydroponics allows almost any floor space (or even a wall) to become a perfect spot for growing food, giving you better control over the types of produce you eat, and increasing how much you get out of each compared to soil-based growing methods.