Starting seeds indoors is almost a necessity if you're planning on having a long garden season and growing some slower growing plants or tender vegetables, like tomatoes, peppers, and eggplants.
If you waited to plant them outside, you'd only have a few really good weeks of harvesting. But growing indoors changes all that, as long as you have a good quality sunlight replacement, i.e. grow light.
Spider Farmer was kind enough to send me the SF600 to test out for this growing season, so I wanted to share my thoughts about it with you. The good, the bad, and the ugly.
SF 600 Dimensions & Specs
Here are the specs given by the company:
Dimensions: 39.37 inches x 5.9 inches x 1.38 inches
Weight: 3.15 lbs
Diodes: 384
Light coverage: 2'x4′
Wattage: 32 watts
What's in the Box
The original packaging comes with a few important pieces other than the grow light itself.
User manual
SF 600 Grow Light
Power cord
AC/DC adapter
Light hangers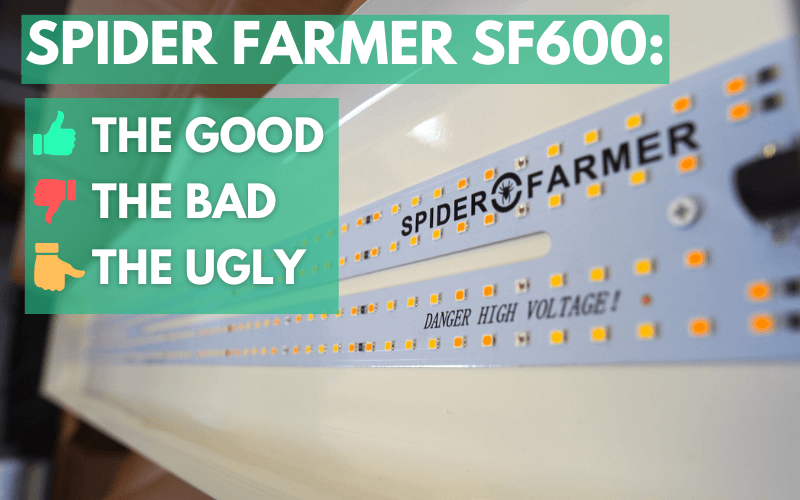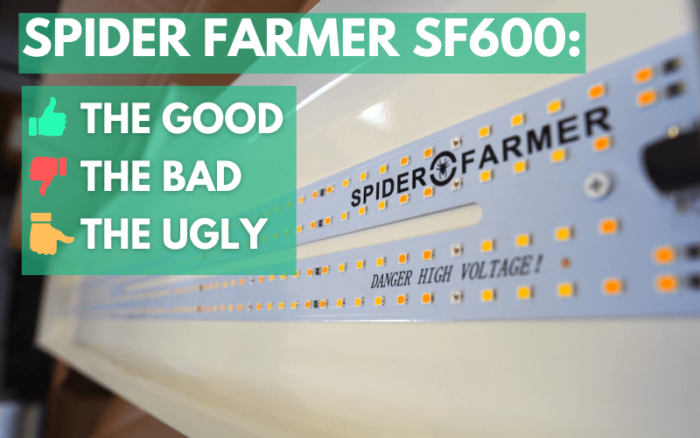 The SF 600 Light Overview
The SF 600 is a full spectrum LED grow light, boasting 384 OSRAM LED diodes
384 OSRAM LED diodes
Spectrum: 2800-3000k, 4800-5000K (full spectrum light)
Power draw: 75 watts
Uses & What It's Best For
While this grow light isn't going to be a professional option like you'd see in commercial farms, it's a great upgrade from those basic lights that don't work quite as well.
This light can be used in a grow tent, or over a typical shelving system in a grow room.
The SF600 is a great option for:
Starting seeds
Seedling stage
Vegetative growth stage
Propagating succulents and other houseplants
It's not a great light for a flowering plant, but is great for starting seeds and for the vegetative state of a plant.
The light is super versatile in that it can be hung horizontally or vertically for use with taller plants or vertical indoor gardens.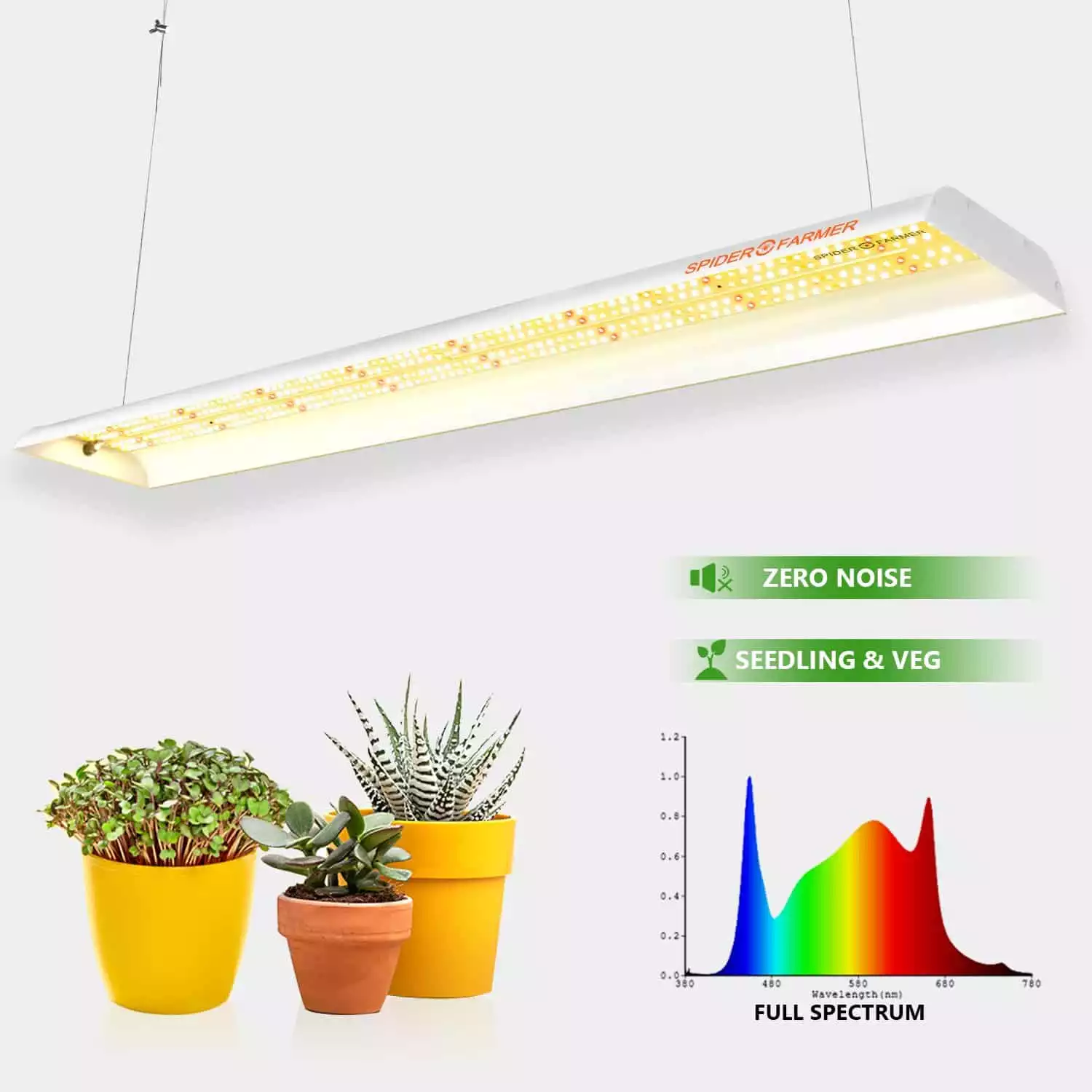 We earn a commission if you click this link and make a purchase at no additional cost to you.
SF 600 Pros:
More energy efficient than T5 bulbs
Doesn't put off a lot of heat
Very quiet when running
Great bulb length for starting seeds on a 48×20 heat mat
Great for rectangular coverage
Very lightweight
SF 600 Cons:
While the SF 600 does have a lot of positives to it, there are of course some downsides.
Doesn't have a dimming feature
Cannot be daisy chained together with other lights
SF600 is not water resistant
Another thing worth mentioning is that it doesn't come with a light timer, I just use a mechanical one like this. It's not a big deal, and them not including the dimmer and a timer is them stripping out features that would bring the price up substantially.
I appreciate that they might this light a more cost-effective option without all the "bells and whistles" you may or may not need.
Light Output
Let's just get down to it. These lights have a bright white light.
With 384 diodes running at the same time, make sure you don't look directly into it without grow room glasses on. 🙂
I tested the light output in the middle and edges of its coverage area at 12 inches, as well as how bright it was when just 4 inches from the light itself.
My light meter measures light in LUX, and 1 LUX equals 1 Lumen per square meter.
In the middle of my grow shelf, at the top of the tray (about 12 inches from the light), it came in at 1000 LUX. This is going to be great for starting seeds and getting plants to grow through their time indoors before they are transplanted into the garden. However, the middle of the coverage area is usually the place that gets more light from a grow light, so we'll have to check the edges too.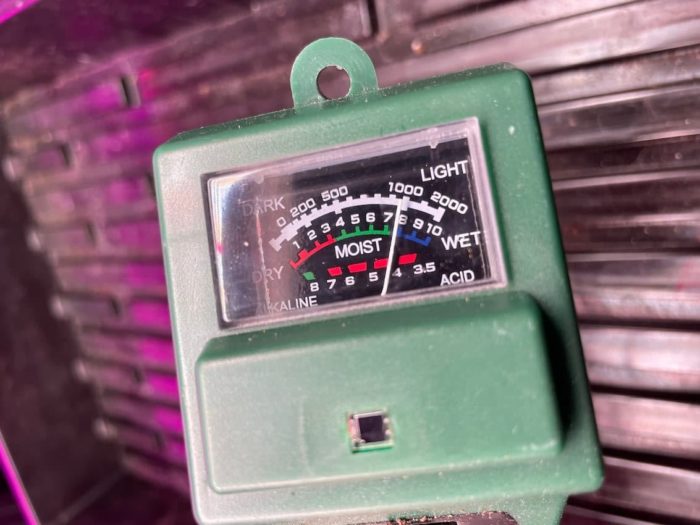 In the middle of the coverage area of this grow light about 4 inches below the light, my light meter was off the charts. It came in around 2000 LUX which is much more than my plants will ever need, but they also aren't sitting at 4 inches. If they were, there would be some yellowing of leaves and potential sunscald.
Next, I wanted to test the edges of the seed starting trays, because that's often the place that gets the least amount of light, and plants can grow more slowly if they aren't getting enough light.
But even at the edge, the SF 600 was giving off 700 LUX. While that is lower than the 1000 LUX at the center, it's plenty of light for my plants to grow, so I think they're going to do just fine.
| | | | |
| --- | --- | --- | --- |
| | LUX Output | Watts | Lumens |
| Middle of Tray – 12 inches from light | 1000 | 28.9 | 2601 |
| Middle of Tray – 4 inches from light | 2000 | 57.8 | 5202 |
| Edge of Tray – 12 inches from light | 700 | 20.2 | 1820 |
Plants need 2000-3000 lumens for proper growth, so I'll have to keep an eye on the plants on the outer edges to make sure they are getting enough light.
Hanging the Light
Hanging this light above your plants is super easy. I'm actually a big fan of how this works.
Directions for hanging the light are not included in the manual that comes with the light, but it's quite self-explanatory.
It comes with 2 hanging straps that have screws that fit perfectly in the top of the light. Once you attach those, you can hang them around your shelving unit or wherever you're hanging them from.
It's a little tricky at first, but it's such a great way to hang the lights. These adjustable straps allow you to raise and lower your grow light whenever you need to. In the past I've used zip ties or s-hooks, and this method is a much better one.
Here is a video I shot of me using it so you can see how versatile and easy to setup it is.
Coverage Area
The light itself is 4 feet long, which is perfect for my grow room shelves, since they are also about the same length.
I've been using Barrina grow lights from Amazon, because they were just one of the cheaper options. But for my 2×4 foot shelves, I needed 3 of those lights on each shelf. With this Spider Farm SF600, I only need 1 light.
So while it seems more expensive up front to go with a higher quality light, you might actually be spending the same amount for your grow lights.
Shipping & Customer Support
The shipping time for my order was so quick. I wasn't even sure what the delivery guy was putting on my porch when he got here. When I saw it was my Spider Farmer grow light I was pretty surprised to be honest.
Quality Control and Testing
Spider Farmer runs a durability test over 72 hours for all of their lights. This ensures the light you receive is functioning properly and isn't running warm or have any defects.
3-Year Warranty
Spider Farmer backs their LED grow lights with a 3-year warranty. I love this because it's not much more expensive than the grow lights you might buy on Amazon on a whim that definitely don't offer any warranties.
Spider Farmer believes in their product enough to give you that warranty.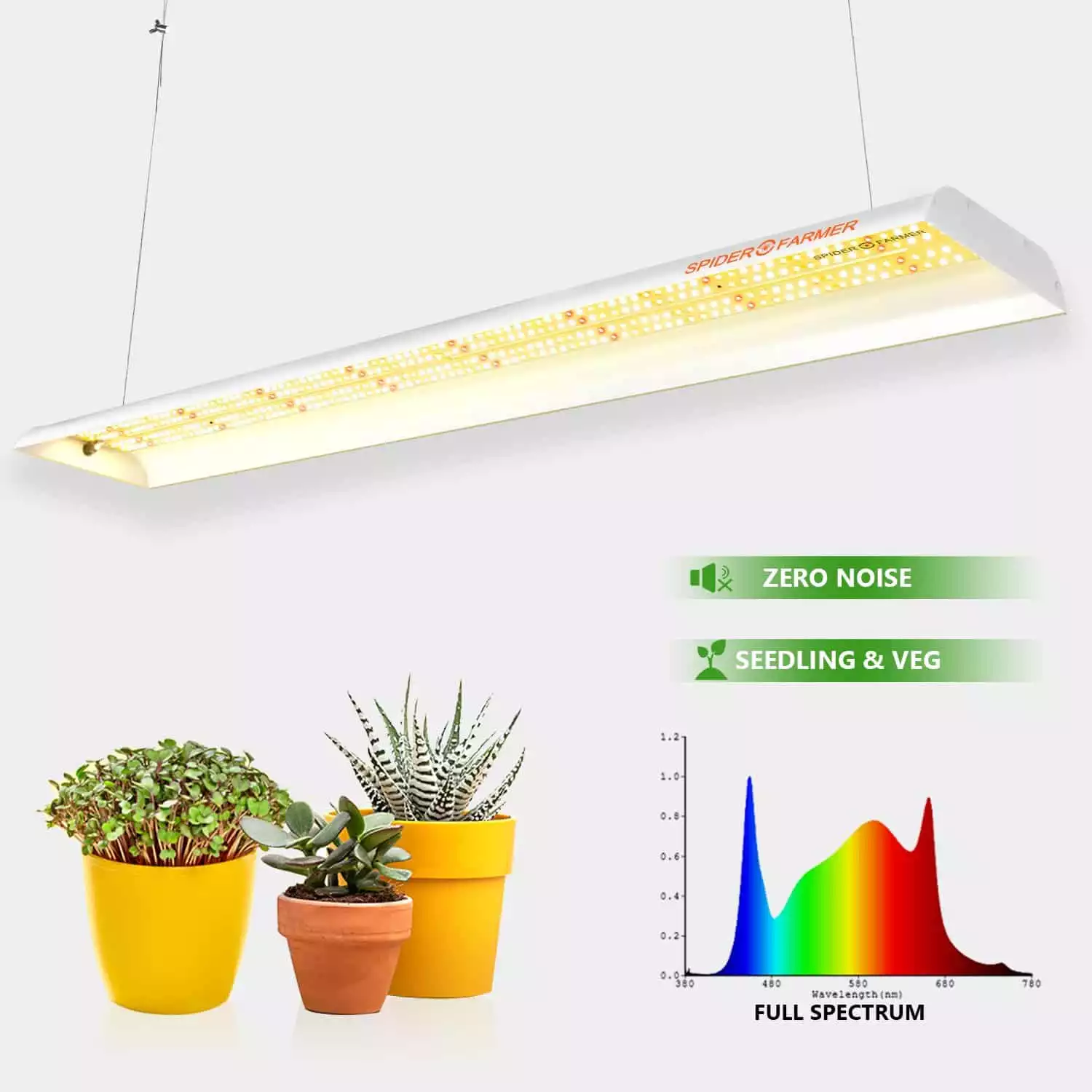 We earn a commission if you click this link and make a purchase at no additional cost to you.
The SF 600 Overall Opinion
The Spider Farmer SF 600 LED grow light is a great option for home growers and those with slightly larger indoor grow rooms. It's probably not a great use for commercial growers, but does an excellent job for indoor gardeners.
The light runs cool and doesn't get nearly as hot as I was expecting. After it being on for a full 8 hours it will still only
It's packed with features that make indoor gardening easier, more productive and more affordable.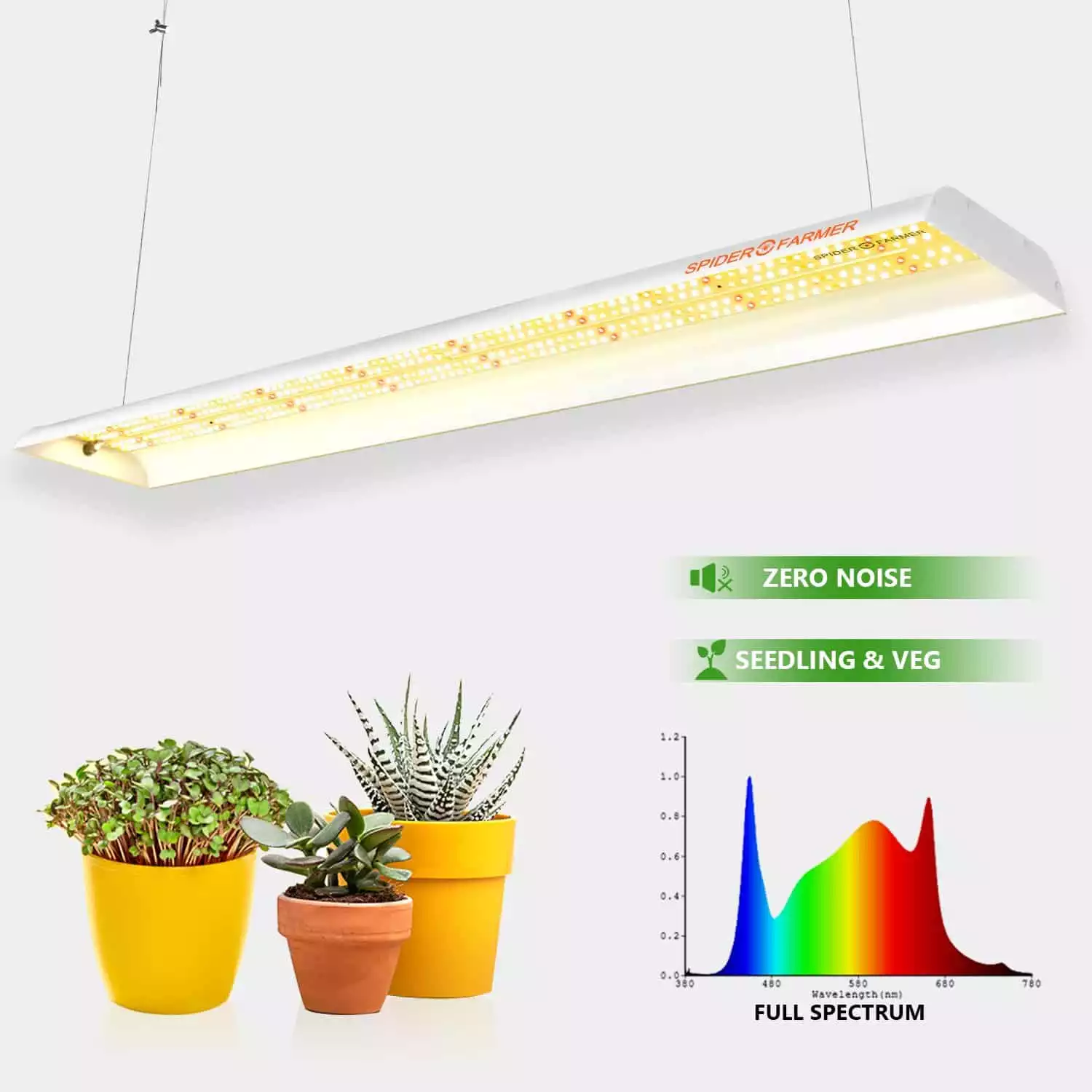 We earn a commission if you click this link and make a purchase at no additional cost to you.